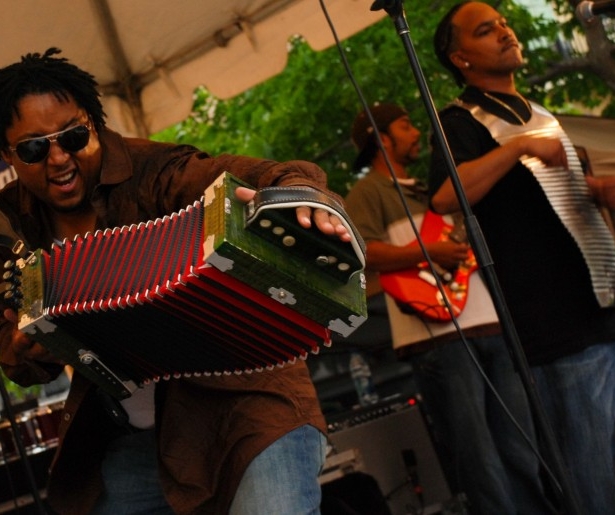 SHARE
This weekend marks the 9th Annual Louisiana Cajun-Zydeco Festival, which is always a fantastic collusion of food, music, and the soupy heat of June in New Orleans. It's also a time for outlining just what and zydeco is.
Zydeco has always been a tough genre of music to define. First, there's the name itself – I used to work in a record shop, and whenever people reached the part of the store with CDs labeled 'zydeco', inevitably, some customers would mouth 'zy-dee-what?'
Then, even if people knew what the music was, they often assumed it was intimately tied to New Orleans. And while you can see some great zydeco shows in this city – the regular Thursday gig at the Rock'n'Bowl is an event I regularly recommend to out of towners – zydeco is truly the music of rural Acadiana – i.e., Cajun country.
This is the part where we need to remind you, gentle readers who may not be from Louisiana, that while New Orleans is a Creole town, Cajun and Creole are two different things, and this is not a Cajun city. Here we go: the Cajuns are descendants of the Acadians, French-Canadian refugees from Nova Scotia who came to Louisiana in the 1700s.
'Creole' describes the mixed French and Spanish population of New Orleans and their descendants. In much of the French colonial world, it was also a name for people of African and mixed-race descent, which applies to a large number of people in Louisiana.
Here's the tricky thing: zydeco is a music of largely Cajun origin with a lot of African and African American elements thrown in – to whit, the quick tempo, the scratchy frottoir (the iron suit played with the spoons), the integration of rhythm and blues, jazz and even hip hop. So by the second, French colonial definition above, zydeco mashes up the Cajun and the Creole. It's sort of the perfect musical expression of South Louisiana.
Unsurprisingly, it is also incredibly danceable, as evidenced by the following clip of the great Buckwheat Zydeco.

Cajun music is a different beast – it is the purely Acadiana dervied music of those refugees from French-speaking Canada who settled in the South Louisiana bayous and prairies. It can, of course, be very danceable, but there are also Cajun songs that are infused with a wistful, nostalgic sense of loss.

Want more of all of the above? Head to Armstrong Park this weekend, grab a cold drink and get your dancing shoes prepped. And if you can't make it in person, WWOZ will live broadcast the entire festival on Sunday, June 7.
Image courtesy of Wikipedia