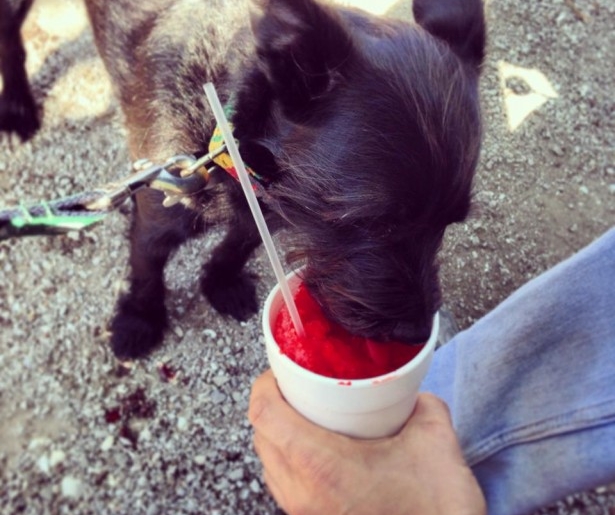 In the sweetly shaded back corner of a large backyard in Algiers, Kate lays her useless legs to one side. The look on her face — all bright eyes and long wet tongue – pronounces her happiness to be alive.
"People need to see her in order to realize that I made the right decision," says Madeline Bernard, founder of the Used Dogs independent animal shelter in Algiers. For her first year at Used Dogs, when not participating in "water therapy," treadmill work or acupuncture, Kate cowered in the corner of her bucolic pen. "She only last year started playing with toys," Bernard smiles.
Kate, who will probably live out the rest of her life at Used Dogs, is an exception: "I don't want to end up as a sanctuary. But I do provide longterm healing if needed," says Bernard, who thinks most of her dogs wouldn't have lasted long enough at another shelter to be rehabilitated.
All told, she has socialized and found homes for 400 dogs since her first rescue in 2000 – which involved jumping over a tall fence, despite being told the dog was vicious. Bernard now uses that same dog to help socialize newer dogs and keep new abandoned puppies company upon arrival. Used Dogs became an official 103c in 2004.
Bernard currently houses 14 dogs, and has boarded up to 22 at time, counting some big litters of puppies. She'd like to get it down to eight.
"I try to keep it to where one third of my dogs are challenging dogs, one third are highly adoptable dogs, and one third are pit bulls," says Bernard, admitting, "The challenging dogs can make my operation a hard sell…Dogs with any quirks at all can't compete with highly adoptable dogs. The thing is, we will never have no-kill shelters if people don't accept dogs that have a few small problems."
Though Bernard loves the SPCA (whose largest, newest location is located in Algiers, just blocks from Used Dogs), and claims to have a great relationship with the group, her services differ: Bernard's dogs are rotated between outdoor pens as well as several mid-sized, verdant play yards.
Bernard laughs, "I create a home-style environment, to the point where I don't think these dogs know they're technically homeless."
Bernard unlatches one pen and releases Chester, who can't stop to visit with before he's made a couple full-speed laps around the big yard, and explored a few objects with his teeth.
Currently some of the other dogs have developed some allergies, so Bernard takes them out delicious looking plates of raw fish and pork bones, while Chester leaps for a plastic chew toy Bernard has cut in half and lovingly stuffed with soft dog food.
"There is nothing wrong with this dog," she says of Chester, who has lived at Used Dogs for two years now.
Bernard's family moved to Algiers when she was five. Just before Katrina, she moved back to the area from California. As she feeds her temporary brood on a spacious property where her neighbors have never complained about the barking, she talks about how she was one of the first rescuers to return to New Orleans after Katrina.
"That very Tuesday morning we showed up to find dogs. I got the city's very first spay-and-neuter grant for pitbulls after the flood," says Bernard, who helped the military rescue and otherwise detain loose pitbulls, and even rescued musician Clarence "Frogman" Henry's Great Dane, Boomer, from Katrina's chaos.
In August, Gulf Coast Banks will host an auction partially benefitting Used Dogs, and Bernard always sets up an adoption booth at the Fridays on the Point music party, the first Friday of each month in Algiers. Used Dogs is otherwise open by appointment, or call 504-442-3647.
Image courtesy of Used Dogs.