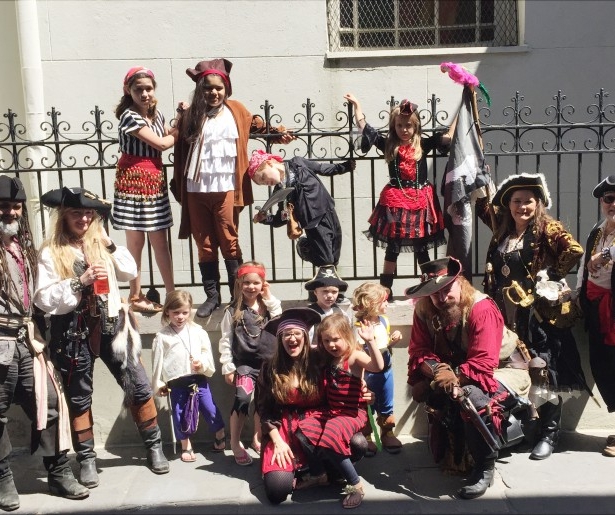 Roller derby veteran Katy Hobgood Ray moved to quiet Algiers Point in 2007 and soon began facilitating a joyful noise via her Confetti Park Players kids chorus.
"I've been playing music since I was little and writing songs since I was a teen, and for years I played music out in clubs," says Ray, "I got back into playing live shows after my son was born — but of course I found myself writing kids songs instead of my former songs of angst," she laughs.
Food provides endless subject matter for Ray's songs, which feature buttermilk drops, roman candy, and the "Candyland Ball" wild sweets party fundraiser (this year on Sept 19): "The ball is a wonderland for kids," Ray attests, "everything you'd want to eat, cotton candy, piles of gumballs and sugar, everything."
Ray invited some Algiers kids to come sing along with her in Confetti Park. "And it just kind of morphed into me and the kids writing original songs together! By now we're written some really good songs," Ray brags.
Ray leads her chorus of 12 to 15 kids (coming to Algiers from as far away as Metairie) through traditional New Orleans songs, classic folk songs, nursery rhymes, jump rope jingles, fairy tales, and natural lore.
The group is currently on break from singing for the summer while they work on packaging and releasing their first album, We're Going to Confetti Park!, but will pick up practice again soon at United Methodist Church of Algiers each Wednesday. All ages are welcome – which Ray admits can be a challenge.
"It would be awesome to have 15 as a permanent number, but most practices are five to seven kids, because the older kids sometimes don't want to work with younger ones."
And yet somehow it all comes together — at least enough to record an album, and play a few live concerts. In October 2014, the Confetti Park Players made their live debut at Charles Gillam's Folk Art Fest, and went on to play the retirement home Bellville Assisted Living Center (where they will perform again this month), at Holiday Fest at the Hubbell Library in Algiers Point, and First Fridays on the Point, singing songs such as "Have You Seen the Okra Man," and a pirate themed tune co-written by brilliant local songwriter, Greg Schatz
"The song 'Watch Out for the Pirates' sounds the best," says five-year-old Luna Bell, who has sung with her six-year-old sister Lily in the Confetti Park Players for five months now, "because we practice that song the most — we sang it all day in Pirates Alley for a music video!"

The older kids had the honor of working with AJ Loria, recording "If Ever I Cease to Love" at Algiers' Word of Mouth studio. "Basin St. Records gave me use of most of their catalog," says Ray, "from Theresa Anderson, Irvin Mayfield, Philip Melancon…so we are focusing energy on all Louisiana musicians. We're doing Kermit Ruffins' 'Breakfast Lunch and Dinner.'"
You can hear the Confetti Park Players album soon on the radio show Ray hosts on WHIV 102.3, 12:30 every Saturday — which was recently picked up to also air on KSLU radio in Hammond each Sunday at noon.
"I use the kids from Confetti Park Players on my radio show to sing background, and to fill out voices in skits," giggles Ray. "I interview authors and have the kids supply the sound effects."
But the Players are not just about music: "We have some theatrics. There are two of our little ones, a boy and girl, who all they want to do is dance, and then we have a sword fight scene in our show," says Ray, who added that playing French Quarter Fest was nonetheless a dream come true for her and the kids.
"For French Quarter Fest we put together an adult band to back the kids, had two big rehearsals with the kids and played a 45 minute set — our first East Bank gig!"
With all those expectant eyes upon her, says little Luna, "I was thinking about not being shy." Her sister Lily says she concentrated on, "making my voice clear. It was nice because we were able to sing real loud outside!"
Laura Bell, Luna and Lily's mom, was thrilled to see her girls perform at New Orleans biggest little festival. "It was really good especially considering the rain…we had a good audience at the children's tent Them dressed as pirates really took a lot of the weight off the performance," Laura laughs. "But it was good for them to get to play that size crowd instead of a little room. Really, the chorus provides an awesome opportunity."