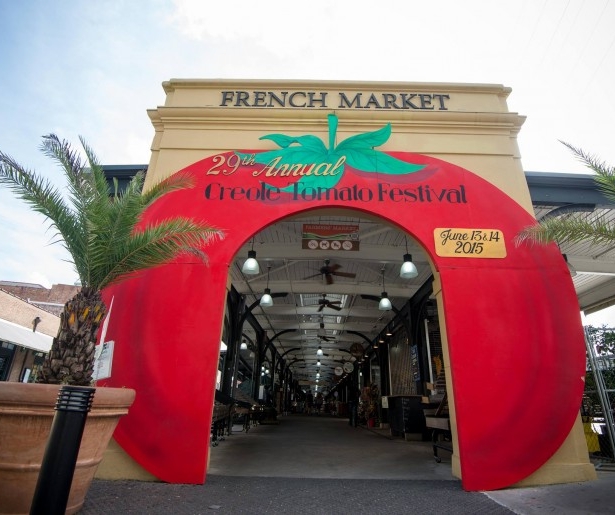 SHARE
June is bustin' out all over! Here in New Orleans, that means biting into a big, fat Creole tomato and letting its succulent juices dribble down your chin.
The signature vegetable of early summer – or fruit, if you will, since that's what tomatoes technically are – gets the red carpet treatment this weekend at the 29th Annual Creole Tomato Festival (June 13-14, 10am-7pm).
Held at the historic French Market, where Italian truck farmers first sold their fresh-picked bushels a couple generations ago, the family-friendly fest features three stages of live music, plus a host of contests, crafts, activities and games. But the real star of the show is the Creole tomato itself, and the myriad ways local chefs put their own stamp on a key component of New Orleans cuisine.
"We chefs use Creoles because they're one of the best seasonal vegetables and have such a longstanding history," says Chef Ryan Hughes of Purloo, who'll be serving up Seafood-Stuffed Creoles at the Festival, along with his savory variation on calas: Rice and Andouille Fritters with Creole Tomato Aioli.
Hughes uses the tops and bottoms he cuts off the stuffed tomatoes to make a delicious Creole tomato jam, which he cooks down with a little cane vinegar, sugar and pectin.
"It's great with biscuits," he says. "And I'll pair it with regional cheeses when Purloo launches its new Southern cheese program." But that's more of an exception than the rule.
"In New Orleans cuisine, we don't cook with Creole [tomatoes] that much," says Hughes. "I like to serve them in salads at room temperature, seasoned very lightly because they're so naturally sweet."
Chef John Besh also likes his Creoles raw. As he notes on his blog: "A good ol' ripe Creole doesn't need any help. It just needs to be eaten." But for chefs who emerged from the New Orleans Italian tradition, cooking – and canning – is central to the cuisine.
"When the Sicilians starting emigrating to New Orleans, they brought the idea of canning tomatoes with them," says Liz Williams, director of the Southern Food and Beverage Museum, who will be talking about the Creole-Silician connection at a Festival panel (11:30 Sunday, Louisiana Cookin' Culinary Stage). "They put them up in glass mason jars, like the Creoles pickled okra, so they could eat them all year long."
The new wave of Isleno immigrants soon began growing Creole tomatoes in St. Bernard and Plaquemines Parish and trucking them to the French Market; by the time Williams' Silician grandfather set up his butcher shop there, it was a de facto Italian Market. Meanwhile, Creole and Silician cuisines started to meld.
"Making sauce by cooking down fresh tomatoes takes a long time," notes Williams. "Creole cooks liked to cheat by making a roux that thickens as it cooks, so Silician tomato sauce became more like a red gravy. It's sweeter, and creamier."
Foodies will find examples of both variations at the Festival, which hosts pop-up booths from nearly a dozen local restaurants, along with a full menu of cooking demos at the Louisiana Cookin' Culinary Stage. Chefs showcasing their chops include Ryan Haigler of Grand Isle, who'll whip up a Creole Tomato Pie; and Angeline's Alex Harrell, who'll be garnishing Gulf tuna with a Creole tomato and jalapeno chutney.
Once you whet your appetite for Creoles at the Festival, guaranteed you'll be hungry for more. Here are some signature dishes found at local restaurants throughout the city that can help you continue your quest.
New Orleans Italian Shrimp Over Fried Creole Tomatoes
This classic New Orleans Italian dish simmers head-on shellfish in white wine, lemon and olive oil, with plenty of garlic and other spices, and serves them over bed of crisp-fried Creoles coated in Italian breadcrumbs. Look for it seasonally on the menu at Galatoire's and Cafe Giovanni's.
Smoked Creole Tomato Soup
Though Creoles first took root in St. Bernard and Plaquemines Parish, some of the best varieties today come from St. Tammany Parish. Commander's Palace proudly touts the North Shore heritage of its house-smoked tomatoes, which are blended with roasted garlic into a velvety soup.
Creole Tomato Sauce Omelets
Antoine's, America's oldest family-run restaurant, is known for many things. But its Creole Tomato Sauce is among its most iconic trademarks. Try it at brunch served over one of the house omelets: Omelette a la Chair de Crabes (crab); Omelette de Crevettes (shrimp); or Omelette aux Fromages (cheese).
Creole Tomato Muffaletta
Born and raised on the Isle of Capri, Chef Andrea Apuzzo has been perfecting the art of New Orleans Italian cuisine at Andrea's, his namesake restaurant in Metairie, for decades. Taste his unique spin on the classic muffaletta at the Creole Tomato Festival, where he'll also be serving up Creole Tomato Eggplant Parmigiana and a Creole Tomato Crabcake.
Heirloom Tomato Salad
"Creole tomatoes" aren't grown from a specific seed, or cultivar; the term can refer to any tomato grown in the rich alluvial soil of the Louisiana gulf coast. Some of the best variants today are heirloom Creoles. Chef John Besh serves heirlooms chosen for their aesthetic mix of shapes and colors with paper-thin slices of country ham. Look for his signature salad on the menu at Luke and other Besh restaurants.
29th Annual Creole Tomato Festival: June 13-14, 10am-7pm, French Market District, N. Peters St. between Dumaine and Barracks St. See the event website for map, directions and complete schedule of music and activities.
Image courtesy of Facebook.