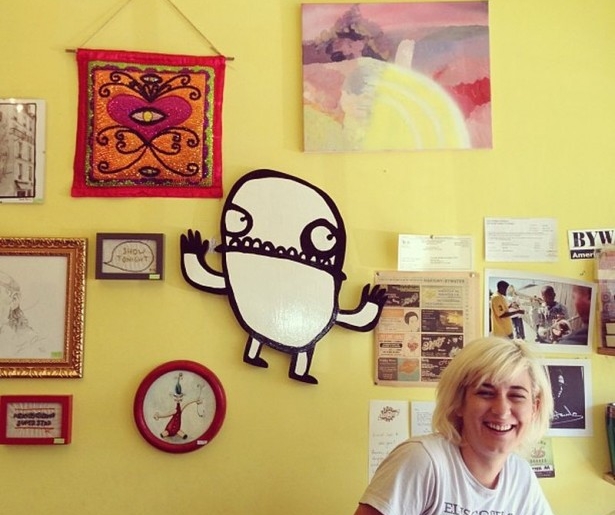 SHARE
"Everything here is locally made," says Amy Knoll, speaking to a lively trio of ladies who've ventured into her Burgundy Street shop. The impish blonde owner of Bon Castor is perched in her usual spot: on a stool behind the counter of her tiny treasure box of a store, which also serves as informal hub for the surrounding Bywater neighborhood.
It's Knoll's standard greeting to first-time visitors, whose eyes dart around to take in the carefully-curated melange of wall art, fashion, home decor, body balms and assorted objets d'art. But "locally made" never gets old. Spoken with pride, and a flashing grin, the greeting sounds freshly-minted every time. So does its corollary: "Don't be afraid to ask questions. Everything has a story."
And oh, what stories they tell. The idiosyncratic visions and passions of several dozen New Orleans artists, most of them from this neighborhood, beckon from every corner, some hung prominently on the sunny yellow walls, others tucked into nooks and crannies awaiting discovery.
Rickie Lee Jones had her "eureka!" moment when she spotted the exquisite tea-dyed, hand-embroidered gloves she wears on the cover of her upcoming album, The Other Side of Desire. Fittingly, those gloves were crafted by fellow musician Joy Patterson for her 'Twixt Piety and Desire fashion label.
Outside the shop, racks of funky-chic clothing beckon fashionistas. Esther Rose's sweetly romantic designs echo the close harmonies she forges with her bandmates, and pair well with the charming cotton dresses bearing the Passion Lillie label. Those are by Katie Schmidt, who started the Fair Trade program at Tulane and now works with families in India to produce her own fashion line.
"It's a New Orleans-based co-op that's impacting other cultures," says Knoll, "which is really cool."
Bon Castor regulars stop in to chat with Knoll, and grab a couple treats for their pets from the big jar of dog biscuits she keeps on the counter. They also make a beeline for the shelf of Smoke Perfumes. Concocted from rich essential oils by massage therapist Kathleen Curry, "they smell like heaven," Knolls notes. "A lot of people are addicted."
Regulars also come back to replenish their stock of nutria catnip toys by Jessica Radcliffe, or pick up nutria slap bracelets by Kate McNee as last-minute gifts for friends. Both designers are longtime Bywater residents and old-school makers, who acted as Knoll's "fairy godmothers" when she first opened her doors.
"I would not be here without the people who made the neighborhood what it is," says Knoll, who credits next-door neighbor Christopher Porche-West for creating her block's "cornerstone" with his iconic art installation. "This may be the new New Orleans, but we wouldn't be here without the old New Orleans."
Years ago, when L.E. Koffskey ran the corner pharmacy, Burgundy was lively retail corridor was known as the "Main Street of the 9th Ward." Now it's a work in progress, and Knoll is on a new frontier of retail that's only beginning to emerge.
Paul Webb's Bywater Music was the first new kid on the block, and Euclid Records was a welcome addition when it opened around the corner on Piety.
But when the St. Claude corridor started coming back after Katrina, "it was mostly restaurants, bars and galleries," says Knoll, who's across the street from Maurepas and down the block from Suis Generis and Bud Rip's.
"I opened Bon Castor more to fulfill a neighborhood need than to make a profit; profit margins in retail are really thin. I also selfishly wanted a place to buy really good birthday cards and gifts in my neighborhood."
Knoll's got plenty to choose from now. She's also fulfilling a dream she didn't even know she had.
A philosophy major with a background in community organizing, Knoll was working at a Gap in Chicago when she met soon-to-be-husband William Walker, another Windy City native. She followed her heart to New Orleans, where Walker founded Lost Love Lounge with a couple old UNO classmates and Knoll was recruited to open Anthropologie in Canal Place.
"While I was working at Anthropolgie, I was always complaining about the lack of shops in our neighborhood," says Knoll. "So Bill challenged me to open my own store. At the time, I wasn't sure exactly what it would be."
But she knew exactly what she wanted to call the shop, which opened in 2012 after she and her family and friends renovated the space from the ground up. "Bon Castor" pays tribute to Knoll's hero, Simone de Beauvoir, who was nicknamed "castor," or beaver, by her classmates because she worked harder than the boys.
Knoll also knew she wanted Bon Castor to be more than just a store. "There are a couple shops in Chicago, like Hazel, that are very community-driven," says Knoll, who used them as a model. "I can't open a dry cleaners. But I can open something that people who live here can really use, like a beauty shop."
Savage Beauty, run by hair artist Jo Starnes, now operates out of the back of Bon Castor, making it even more of a community center. And when Day of the Dead rolls around, neighbors bring their own offerings to add to altar outside the store, which grows more elaborate every year. The shop also serves as a kind of ad hoc incubator for neighborhood arts projects like the upcoming production of The Tempest, which was born at Bon Castor.
"I'm really excited about that happening," says Knoll, who's also psyched about Playhouse NOLA opening across the street. "These are the kind of people that made this neighborhood a place where I would want to open up a shop."
Bon Castor is located at 3207 Burgundy St. Hours are 11am-7pm Tuesday-Friday; 12pm-8pm Saturday; and 12pm-6-pm Sunday. Closed Mondays.
Photo by Theo Eliezer.