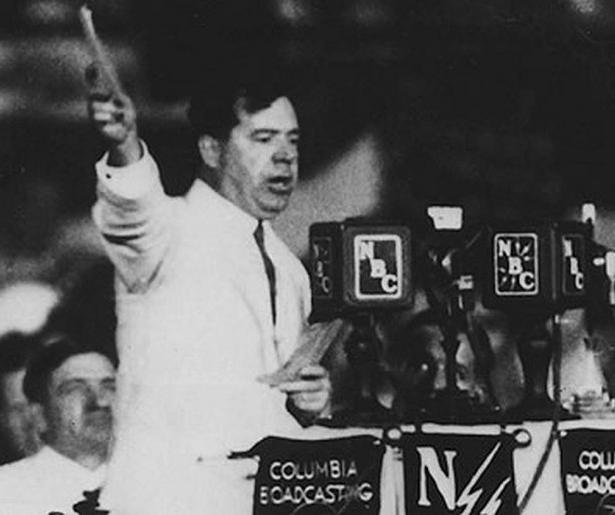 SHARE
One of the most legendary and controversial politicians in Louisiana history, Huey P. Long served as 40th governor of Louisiana from 1928-1932 and then as a member of the U.S. Senate from 1932 until he was killed in 1935. Remembered for being an outspoken populist, he provoked new conversations and comparisons within the state's political sphere and changed the course of Louisiana politics.
The The Historic New Orleans Collection is commemorating the 80th anniversary of the death of Long, often referred to as "The Kingfish," in an exhibition curated by Amanda McFillen, Matt Farah and John H. Lawrence.
From Winnfield to Washington: The Life and Career of Huey P. Long is on display until Oct. 11 at 533 Royal Street with admission free to the public. The Collection intends to give visitors a sense of the world that Long grew up in as well as the political landscape at the time, illustrated by more than 140 documents, maps, objects and photographs from the Collection's holdings, as well as several new items that have never before been exhibited.
In a statement, curator John H. Lawrence said, "Long's life is often presented as a series of outlandish acts and dramatic episodes. .. He was more complex than that, and it is our hope that visitors will walk away with a more complete picture of the man behind the myth."
Born in Winnfield, Long was raised by a middle-class family, and at 25, he was elected to one of three seats on Louisiana Railroad Commission, a statewide entity. Four years later, in 1922, he became chairman of the commission and in 1928 was elected to his first and only term as Louisiana's governor.
While in office as governor, Long sought to transform the state bureaucracy and cultivated loyalty by giving everyday people, and not just those connected politically, with a chance to work in his administration. A firm believer that education should be accessible for all, he was an avid supporter of the LSU system and expanded its campus, increased enrollment and instituted scholarship programs.
He pushed bills through the legislature including a free textbook program, night courses for adult literacy and piping natural gas to New Orleans as well as instigating a number of public works programs and building of roads, bridges and hospitals.
Despite the positive changes he made, he was also corrupt and controversial. In 1935, he was shot in the Louisiana State Capitol Building and passed away two days later. Most believe he was assassinated for his populist political philosophy, but his death still draws debate.
Said curator Matt Farah, "The dual nature of Long's personality makes him a compelling figure. By most accounts, he did care about the plight of the common man and wanted to create a system of relative equality for the people of Louisiana, but he was also notoriously corrupt and amassed a great deal of wealth for himself at the expense of the people of Lousiana. This contradiction is part of why he continues to have ap lace in the narrative of American political history."
The exhibition explores details of Long's life beyond the well-known anecdotes. Besides the aforementioned artifacts on display, there are also audio and visual components, including newsreel footage of Long in action; an interactive timeline of his life and audio interviews with family members as well as his accused assassin, Dr Carl. A. Weiss Sr. who sustained fatal wounds in the incident.
The exhibition is sponsored by the nearby French Quarter restaurant/bar Kingfish. For more information, visit www.hnoc.org or call 504-523-4662.