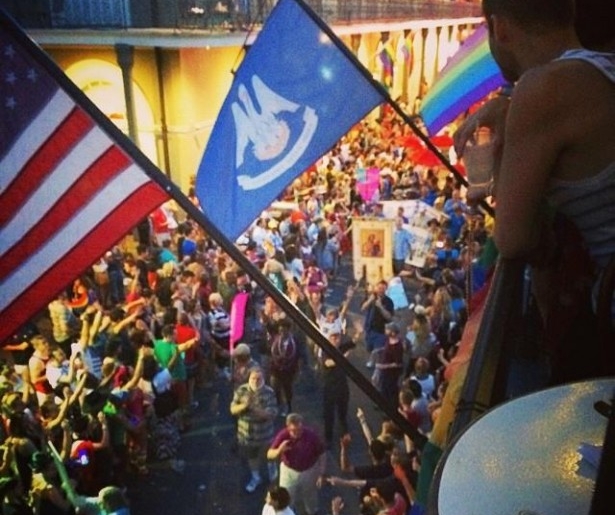 SHARE
Long overshadowed by Southern Decadence, its rowdier older brother, the New Orleans Pride Festival has overcome its early growing pains and emerged as a full-fledged celebration in its own right. On June 19-21, New Orleans Pride marks its 5th consecutive year as a don't-miss marquee event on the LGBTQ calendar.
"For years, the festival was pretty hit or miss. Every couple of years, the sponsoring organization would change, and some years it didn't happen at all," says New Orleans Pride executive director Chris Leonard.
"When we restarted Pride in 2011, we changed the mission: to celebrate New Orleans," he adds. "Instead of trying to compete with Decadence and draw tourists, we celebrate the unity of all our locals – gays, transgenders, straights, everyone. We do get a lot more tourists now, which is great. But it's all about Pride in New Orleans."
And that Pride is swelling. In 2014, 27,000 people lined up to watch 50 different groups of colorfully-dressed marchers wend their way through the Quarter on foot, bicycles, scooters, elaborately decorated floats and horse-drawn carriages. Organizers expect even bigger crowds to catch throws at this year's Pride Parade, which rolls at 7pm from the corner of Royal and Elysian Fields on Saturday, June 20.
Led by celebrity Grand Marshals and "Broadway Boyfriends" Reed Kelly and Josh Canfield, stars of the reality show Survivor: Blood vs. Water, the parade also features marchers from more than half a dozen local churches. With rainbow flags flying, they'll pass by the reviewing stands at OZ, the iconic New Orleans gay dance club on the corner of Bourbon and St. Ann, which hosts an afterparty with DJ Blacklow at 10pm.
Earlier on Saturday, it's a family affair at Washington Square Park (11am-4pm). Pride Fest 2015, a free picnic-style event, opens with an interfaith prayer service and features live music throughout the day, along with fun activities for kids like dodgeball and volleyball. More than 60 art, crafts, food and drinks vendors will be on hand to celebrate Pride's homecoming to the park where it was born.
The three-day party with a purpose, which donates funds to Pride Care's youth anti-bullying and suicide prevention campaigns, officially launches on Friday, June 19. Transgender writer and activist Ryan Sallans, author of Second Son, is the keynote speaker at the Pride kickoff party (8pm-11pm, check event website for location). There's also a Queer Com Pride Variety Show, followed by a Dykedance dance party, at Allways Lounge (2240 St. Claude, 10pm).
Revelers can get a jump on the weekend's festivities on Thursday, June 18, when the inimitable Poly Cockit ("what doesn't kill you only makes you blonder") takes her high wattage act to the Bourbon Pub (7:30pm).
Want to keep the party going? Bourbon Pub also hosts Pride Fest's grand finale: the Pride T-Party with Billy Francesca (4 pm, Sunday, June 21).
"There's something for everyone, no matter who you are," says Leonard, who's proud of the diversity of New Orleanians marching together under rainbow flags. "We can't stress enough that it's a community event, and we want the community to come out and support it. It's all about unity."
New Orleans Pride Festival runs June 19-21. See the Pride website for official parade route and additional details.
Image courtesy of New Orleans Pride Facebook.