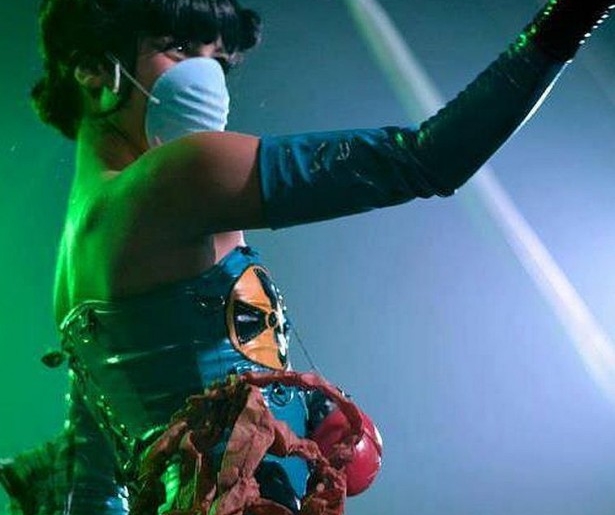 SHARE
The burlesque scene has exploded in New Orleans over the past five years, and with it came a concurrent fascination with old timey circus acts in general. The two have a lot in common – there's a ton of cultural connective tissue between the concepts that manifests in stripey outfits, corsets, jazzy, brassy soundtracks and sailor tattoos of burlesque.
Now, because New Orleans gonna New Orleans, we have a festival celebrating the phenomenon.
The Snake Oil Festival, which embraces circus acts, sideshows and burlesque in all of its variety, takes over the Howlin' Wolf this weekend from Jun 19-21. This is the festival's inaugural year, so give it some love, and give us a moment to switch into carnival barker voice: There's gonna be thrills! There's gonne be chills! There's gonna be 60 burlesque and sideshow acts, from strongmen to gypsy jazz.
New Orleans has always had a passion for theater, costuming and side hustle, and circus acts draw off of all of this phenomenon; even the name 'Snake Oil' suggests someone who bamboozles an audience with a wink and a smile, as the audience plays along for the sheer enjoyment that comes from a good bamboozling. We're a people receptive to the sideshow and the circus act; we know the beads we catch during Carnival are useless, but their physical value isn't the point. It's the show that comes with the throw, as it were.
This year's Snake Oil Festival comes courtesy of local performers Ben Wisdom, Little Luna and Ginger Licious, who have wrangled circus historian James Taylor as a keynote speaker. Friday night will feature sideshow acts, including a strongman, a blockhead (i.e. a guy who hammers nails into his face), aerialists, belly dancers and an after party at the Hi Ho.
Saturday brings the bulk of the burlesque and an after show at Siberia headlined by Debauche, the city's own Russian-gypsy-punk-wow-what-did-I-just-see band; trust us, a Debauche gig is never an event to be missed. Sunday brings the Unholy Toller Revival, an old timey revival tent show, but with less fire and brimstone and more snake oil hawking and carnival art.

You'll need to purchase tickets to all of the above shows. We'll see you at Snake Oil. A complete schedule of events, as well as links for buying tickets, can be found at the festival website.
Image of performer Ludy Lucerne courtesy of the Snake Oil Festival's Facebook page.