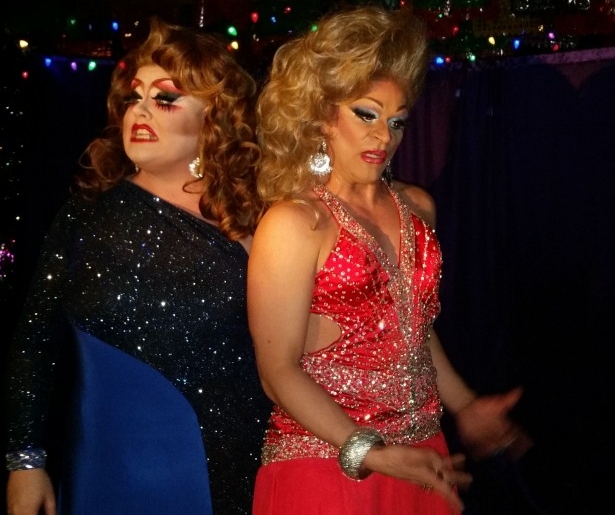 For almost 20 years, trumpet player Kermit Ruffins and his band performed every Thursday night at Vaughan's Lounge, helping make the bar famous as a bastion of New Orleans authenticity. It remains one of the city's best watering holes, but since November, the third Friday of each month at Vaughan's has become a real drag…
Drag Queen Coca Mesa and The BarBitch-urates (a rotating ensemble that always includes Gia Giovanni) now present their "Here Come the Girls" monthly drag show at Vaughan's Lounge in the 9th Ward.
"They have 'handlers' who help with makeup and wigs. While one of them is doing a skit the other one is changing. Coca is very professional, and they are so funny," giggles Cindy Wood, longtime owner of Vaughan's and a huge Coca Mesa fan. "Coca wears the most incredible makeup. She is Cuban and Mexican, an acrobat – she can actually sing, not just lip-synch! She can do splits! "
Coca began working at OZ on Bourbon St in 98, and in 2000 started performing in drag, "because I enjoyed it," says Coca, who competed in OZ's famous 'Gong Game Show.' "I kept losing. But then I did it as a girl, and I won. My boss then wanted to start using me as part of the show." Coca still performs at OZ every Sunday and once a month on Wednesday.
"At Vaughan's it's more of a straight crowd than a gay crowd," says Coca, adding, "They seem to appreciate it more than the gay people! At the OZ you're struggling to get the gay people's attention; they're on their phone or they're talking to each other. At Vaughan's, everyone's head is up and they're excited."
Coca has tried to give each third Friday at Vaughan's a theme, something befitting of that month or a recent holiday. "One night we dressed in fire and rain costumes, and did all songs fitting the theme of fire and rain. We did 'Umbrella' by Rihanna. Gia secretly filled her hair with baby powder and shook at it out to look like smoke."
Another beloved routine: a battle to the death between Dolly Parton and Whitney Houston. "It's one of the numbers we're good at, the Dolly vs. Whitney mix, which Gia came up with; she is the conceptual mastermind, and then I come up with the choreography. Now that I have a partner in crime to perform with me we can deliberate and delegate."
Cindy Wood is more than happy to have this new show on Vaughan's roster. For over 20 years the bar has honored an agreement with its neighbors to host live music only on Thursday nights, plus a few other special events a year. "The drag show is not live music so even though it's wild it's pretty quiet," says Wood.
Wood still continues Vaughan's Thursday night musical tradition as well. After Ruffins retired just short of his 20-year anniversary in order to focus on running his own nightclubs, Corey Henry and the Treme Funktet capably took over Thursday nights at Vaughan's in Sept 2013. Very recently though, Henry's beloved bandmember Travis "Trumpet Black" Hill died while on tour in Japan of complications from a tooth infection.
Hill's band, Trumpet Black and the Heart Attack, also often served as the fill-in band whenever Corey Henry left for tour. "We've just been dealing with the loss of Trumpet Black," says Wood. "The Heart Attack is still a band—we're doing our best to keep Travis's band together because they love this gig and they really need it. So we hope people will keep coming out to see them. They're great."
At the same time, Wood and Coca continue upping the ante on their third Friday drag shows. For now there's still no cover, which Wood stresses is a bargain for such high level entertainment: "It's not just boys in dresses," she promises. "It's theatre!"