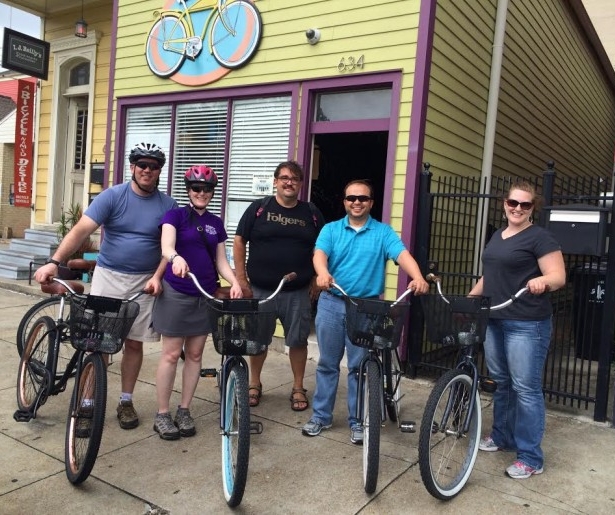 SHARE
Yikes! There goes my Bloody Mary!"
It's late Sunday morning, and the go-cup from Elizabeth's I foolishly stashed in my bicycle basket has just fallen victim to a rough patch on Royal Street that I failed to skirt around. My bike tour-mate Julio Pineda doesn't miss a beat.
"There's the caption for your story," Julio says with a grin, eliciting much laughter from our fellow cyclists. We're two stops into a New Orleans culinary tour with Confederacy of Cruisers guide Victor Pizarro, and our little party of six feel like old friends after bonding over praline bacon, boudin balls, fried green tomatoes, syrup-drenched calas and the aforementioned Bloody Marys at Elizabeth's on Gallier St.
Cruising with the Confederacy has its privileges. During the height of the brunch rush, we scored a table on arrival at the popular Bywater eatery, thanks to the advance calls Victor made from our previous stop.
"Restaurants love us," says Victor, who shucked oysters as a teen at the Chart House in Jackson Square and built a career in fine dining (Upperline, Arnaud's, Bayona, Le Petite Grocery) before marrying his love of food and all things New Orleans with his passion for bicycling. "Because we tip really well, I order for everyone, and we're in and out of there really fast."
Restaurants also like the fact that 'CoC' shows up at the top of TripAdvisor rankings when visitors search for New Orleans tours, bringing them plenty of business, even during the slow season.
Like many CoC clients, Julio and his wife Marissa, who have five kids back home in Idaho, are repeat customers; they took a culinary tour with another Cruisers guide two years ago. When Victor learns this, he revises his list of stops on the fly to make sure there are no repeats – save for Bennachin in the Quarter, which is always ground zero.
Bennachin menu standbys like Jama- Jama sauteed spinach, the African ancestor of Creole greens, offer Victor the perfect platform to expound on the West Africa-New Orleans culinary connection. Today, they also give Julio, a native of Guatemala, the chance to compare Bennachin's crisp-fried Dodo plantains with the platanos of his homeland, which are served drizzled with cream.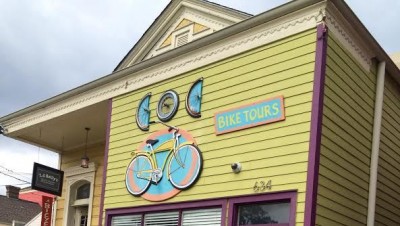 Fellow cruisers Brian and Kathy Landis, who hail from Colorado Springs, are first-time New Orleans visitors, but this is their second CoC ride. Straight off the plane, they headed for CoC headquarters on Elysian Fields (above) to take the New Orleans Historical Drinking Tour, where Kathy honed the go-cup skills she puts to good use today.
Unlike yours truly, whose wobbly biking ability necessitates a tight double grip on the handlebars, Kathy navigates Bywater potholes, Bloody Mary in hand, with nary a spill.
Then again, she is a semi-pro. Kathy and Brian, who own nine bikes between them, have taken several multi-day backcountry trail rides, including one they negotiated on a two-rider tandem (no small feat, according to Victor).
The beauty part of CoC? Like the comfy fat-tire bikes that comprise the company fleet, their tours work for people of all biking-skill levels, from rusty rank amateurs to lifelong cyclists who live on two wheels. They also pack a whole lot into a three- or four-hour ride, which proceeds at a pace leisurely enough to enjoy not just the restaurant stops, but the roadside attractions along the way.
When Piety Street Sno-Balls turns out to be inexplicably closed, Victor segues instantly to Plan B. He has us park our bikes and leads a trek over the Rusty Rainbow bridge to Crescent Park. While we shoot selfies against the city skyline, Victor explains the urban archeology of what was once a busy working wharf and the topography of the curve in the Mississippi that gives the Crescent City its name.
Refreshed by a light sprinkling of rain, we saddle up again and peddle our way through Bywater to the newly refurbished St. Roch Market, our final stop of the day. There, Victor hunts and gathers a farewell feed of New Orleans classics: muffalettas, crawfish poutine and (of course) bread pudding, each dish accompanied by lively commentary on its place in local cuisine. Then the sky grows more ominous, and his internal barometer warns him it's time for us to hit the road.
"I never do the same tour twice," Victor tells me, back at home base on Elysian Fields, where we miss a thunderous downpour with just minutes to spare. "Dining in New Orleans is a social interaction, and so is the tour. I talk about food history, which is why I do it. But if I see an opportunity to expose people to something else about New Orleans I think they'll love, I take it. It's all about me being flexible, and them going along for the ride."
Victor Pizarro is one of eight tour guides at Confederacy of Cruisers Bike Tours, which was launched in 2007 by founding guide Jeff Shyman. In addition to the culinary and drinking tours, the company offers a Creole New Orleans architecture tour, and a Peddles to Paddles tour that includes kayaking on the Bayou St. John.