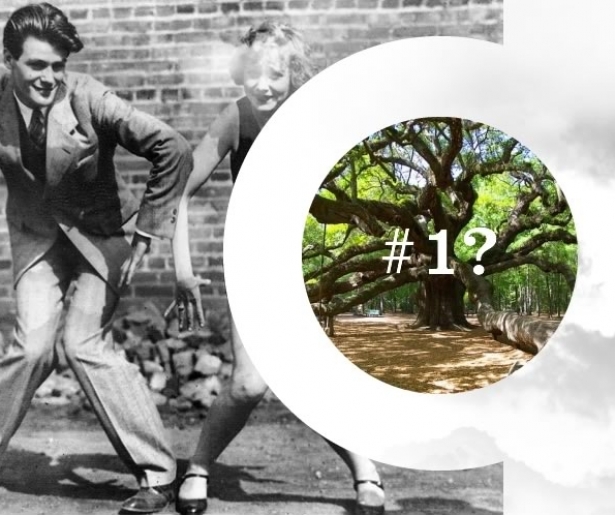 SHARE
So, Conde Nast Traveler has released its list of Best Cities in America, and New Orleans comes in at No. 8.
I'm…OK with this. We obviously live in an amazing city. Top 10 is good. Yes, we are amazing enough to be far above, 'eight,' but we acknowledge Nola is not for everyone, that her deeply ingrained culture and traditions, her beauty and her shadows, her tastes and her soundscape, are of a deeply rich variety that some may ingest and subsequently feel full of life and laughter and the grace of existence…and some may taste and immediately develop indigestion. We are a city of high passions that does not provoke a neutral reaction. That's cool.
I just hate that Charleston came in first place. Something burns there. Because while New Orleans can be compared to other cities on the list like San Francisco and Boston, Charleston seems to have become our particular tourism rival. Some readers may raise an eyebrow, but today, when folks talk about visiting a historical Southern city, its Charleston and New Orleans that are usually sized up as the potential candidates (Savannah is sometimes mentioned as well).
The narrative goes something like: here are two Southern cities with historical architecture and great food and moonlight and magnolia and romance and all that. And look: I like Charleston. I do. But while the two cities do share some superficial similarities, they are, in spirit, very different. New Orleans has more in common with smoky ports and rum-soused dock towns like Oakland and Baltimore than charming, fiddle-dee-dee antebellum Charleston. You know how I mentioned Savannah above? Charleston and Savannah are sipping sweet tea together at the hotel bar while New Orleans is mixing a sazerac after polishing off a beer and a shot at the live show around the corner.
To quote a friend, "Charleston is the girl you take home to your parents. New Orleans is the girl you call up at 1am." I don't think he strictly meant New Orleans is a drunk booty call – more like, it's a city that's always up for a good, and potentially risky (and rewarding) time – but you get the gist. New Orleans – for all of our wonderful, first rate, family friendly attractions, from the Audubon Zoo to City Park – is frankly a bit seedier than the jewel of South Carolina, and that's the point. That's the hot sauce in the gumbo, the backbeat in the bounce track, if you'll allow us to traffic in some overused clichés. It's a drawback in many ways – as I write this, two people were just shot in front of the Wyndham Garden Barrone Street Plaza just one freaking block of Canal – and such is, for now, a price we pay for living here. But we pay it, even as we seek to make the city better, because that price is worth the spice.
Anyways, if you want to rank our cities by the tourist-y measurable metrics, New Orleans is still frankly on top. Our historic buildings are more proliferate, our food in turns cheaper on the budget side and more ground breaking on the top end, our bars are…well, come on, they're the best in the world, and there is simply no rivalry between the two cities' music scenes, or if there is, it is akin to the rivalry between the armies of the USA and Lichtenstein.
Let's also clear some air and say for the record: listicles like this are stupid. We post them on New Orleans & Me because they're clickbait and they drive web traffic, and in a hyperlocal way a listicle can work. Need to know where to go out? A quick and dirty list of ten bars or restaurants on the web isn't a bad start.
But when you put forward a 'Top XX' list about a subject as broad as Best Cities in America? Well, that's asserting a lot of authority over a lot of ground with a very small amount of justification. What do we mean by 'Best'? Best at what? Again, narrowing the scope lends a little credibility. 'Best dive bars in Portland,' where 'dive' is defined and the geographic scope is constrained, has some weight.
Then folks start getting ambitious and Buzzfeed-y and Buzzgreed-y and make any damn list they please about any sized topic, and that, folks, is when your red lights should start flashing. Especially when the numbers and rankings in question are user generated, as they are in this Conde Nast piece. You probably shouldn't rank the 'best' cities in America using the same metric high schools use to elect their homecoming queens. Hell, this user-generated ranking courtesy of Travel + Leisure puts us way above Charleston.
Oh well, at least Conde Nast didn't try and get way too ambitious and make a Best Cities in the World List, right? That'd clearly be ridiculous.
Wait, they did?
So what's the best city in the world, according to Conde Nast? What city towers over all urban areas? Who wins it all, in the world? London? Paris? Hong Kong? New York?
Oh. Right. Charleston.