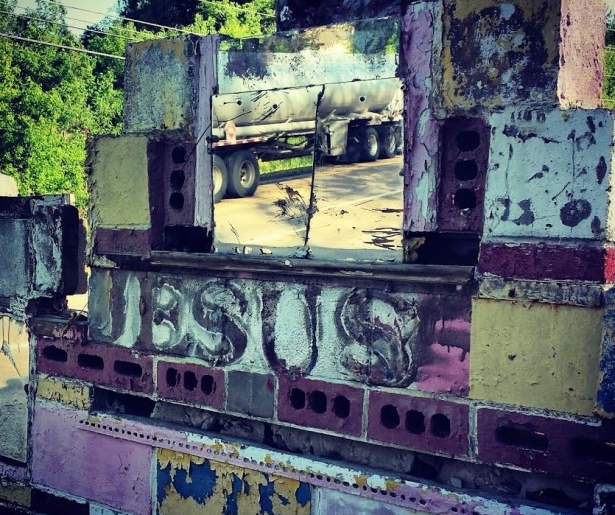 SHARE
This weekend, WWOZ is packing their bags and heading to Oxford, MS for the North Mississippi Hill Country Picnic, one of those off the radar music festivals that makes the South such a maddeningly fascinating cultural hot spot.
The folks at OZ will broadcast hill country blues from their source in the uplands of North Mississippi. The Picnic happens Jun 26 and 27, and if you can't make the five and a half hour drive to Oxford, you can always just twist the dial to 90.7 from 10am to midnight. The festival lineup is pretty astounding, with music that is so identifiably roots it could grow a tree.

If you do decide to go to Oxford, here are some fun things to do on the way up north. Also, pro tip: bring some Claritin with you. The pollen count in North Mississippi is no joke, and whenever I'm up there I feel as if I've contracted the flu and a head cold all at once.
Taylor Grocery
You've got to have some stones to claim you've eaten the best fried catfish in the South, but if you told me so after visiting Taylor Grocery, I'd be willing to at least hear you out. The Grocery, located about 15 minutes south of Oxford, is an institution, a little country store with a menu that leans towards the deep fryer. To be fair, there's some lovely grilled steaks and pork chops, but the place is rightly famous for a corn and wheat flour catfish fry that strikes a lip smacking balance between light and oily. It's just the bomb.
4-A Depot St Taylor, MS 5-10pm Thu-Sat, 5-9pm Sun
Square Books
Life in Oxford revolves around Courthouse Square, better known as 'the Square', which conveniently sits in the center of this leafy, pretty college town. And it's fair to say the Square revolves around Square Books, one of the finest independent booksellers in the South. There's a well curated selection of titles and knowledgeable staff; as you might guess, the Southern fiction and non-fiction shelves are wonderfully well stocked.
160 Courthouse Square, 9am-9pm Mon-Thu, 9am-10pm Fri & Sat, 9am-6pm Sun
The John Currence Empire
New Orleans native John Currence was voted Best Chef in the South by the James Beard Foundation in 2009. He's since gone on to dominate the Oxford dining scene, opening no fewer than four restaurants in this relatively small city. My favorite is Snackbar, which fuses French and Mississippi country cooking into a genre Currence has dubbed 'bubba brassiere'; this particular niche of gastronomy manifests in menu items like a duck croque monsieur that is to die for.
City Grocery is also excellent, and has the funky haute Southern decor and menu thing going on, which should feel pretty familiar to most New Orleanians. They mix a mean cocktail in the upstairs bar, which is my preferred spot for a drink in town, given that the rest of the city's nightlife is more or less given over to college bars.
Rowan Oak
More than many American writers, William Faulkner obsessed over place, writing once, "… I discovered that my own little postage stamp of native soil was worth writing about and that I would never live long enough to exhaust it." Rowan Oak was that stamp: his home and manor and retreat. it's a lovely old home tucked away in the woods, and when you're finished touring it, you can walk a pleasant 15 minute trail to the" Ole Miss University Museum":http://museum.olemiss.edu/, which has some nice art exhibits.
Rowan Oak: Old Taylor Rd, 10am-6pm Mon-Sat, 1-6pm Sun, $5 admission; University Museum: University Ave & 5th St, 10am-6pm Tue-Sat, general admission free, special exhibits adult/child $5/3
Thacker Mountain Radio
With all due respect to our publishing partners at WWOZ, we can't send you to Mississippi without recommending Thacker Mountain Radio. A show rather than a station (it plays on Mississippi Public Broadcasting – 90.3 in Oxford), Thacker is to Mississippi music and culture was WWOZ is to New Orleans. There will be a live broadcast at 7pm on Saturday night; tune in if you've left the festival early, or just listen online.
Natchez Trace Parkway
The Natchez Trace, managed by the National Park Service, is a gorgeous scenic road that traverses miles of old growth forest, soft, rolling hills, ink dark cypress swamps and sun blessed farmland. It doesn't run directly to Oxford, but if you take Hwy 61 to Natchez, MS, you could take the Trace to Jackson and then head north to Oxford on 55 (or alternatively, take the Trace from Jackson to Natchez and head back to New Orleans on 61). if you follow this route, make sure to stop at Emerald Mound, site of an old Native American city and the second largest ceremonial mound in the USA.
Above image: A truck reflected in a mirror attached to an abandoned church in the Mississippi Delta, by Adam Karlin.