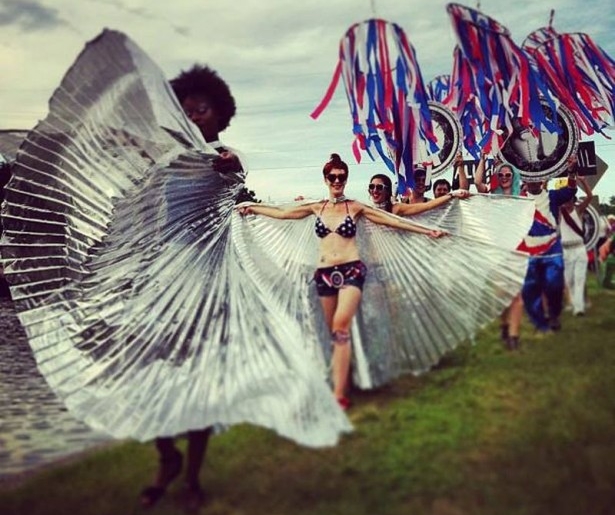 SHARE
As New Orleans traditions go, it's a pretty new one. This is only the fourth straight year that a star-spangled fleet of patriotically festooned paddleboards, kayaks, rafts, small boats and assorted aquatic assemblages has floated down Bayou St. John to celebrate America's birthday.
But the annual Fourth of July Flotilla has grown so organically it seems like it's been around forever, spawning all-day family picnics on the banks of the Bayou, and inspiring all manner of pop-up bands, dance troupes and costumed revelers eager to show their colors and let their freak flags fly.
"In the ancient world, Kolossos stood for freedom, and our own Statue of Liberty is a female replica of the original monument," says Katrina Brees, who founded the Krewe of Kolossos and its signature Flotilla event. Kolossos is a prominent enclave of some of the city's most creative artists and misfits, and Brees says the Flotilla is a timely reminder that this community is an integral part of the nation's fabric.
"Part of my hope in doing this event is to re-establish people's connection with America, so we can see it as a place of creativity again."
The mastermind behind Krewe of Kolossos, which mounts fantastical paper mache creatures on bicycles that roll in Muses and other parades, also wanted to honor her creative fellow travelers: the independent krewes and Carnival artists who make Mardi Gras season in New Orleans a truly democratic event.
Royal Artists founder Richard Valadie and Box of Wine founder Ann Marie Coviello reigned over the first Flotilla as King and Queen, while last year's royal couple was Dancing Man 504 and Midori Tajiri-Byrd, founder of the Mystic Krewe of P.U.E.W.C.
Riding on the 2015 Royal Barge? Mr. Mardi Gras himself, Al 'Carnival Time' Johnson. And his venerable consort isn't just Queen for a day. She's Mercedes "Queen Mercy" Stevenson, one of the first Big Queens of the Wild Tchoupitoulas Mardi Gras Indians, who sewed has her own suits, and created them for others, for more than half a century.
Queen Mercy's tribe will be out in force to honor her, adding vibrant plumes of yellow feathers to the red, white and blue mix. So will the Skull and Bones gang led by 2013 Flotilla Queen Mardi Claw, along with Tap Dat! dancers, Royal Dice tumblers, and multiple brass bands that "just show up."
But the main action is on the water, where the floating parade, which grows bigger every year, includes a fleet of eight Kolossos barges and a small armada of aquatic art, including a floating piece created by the makers of Gilliam the whale from Chewbacchus.

You won't want to miss the Royal Proclamation; read promptly at 5 pm, just before the King and Queen board the Royal Barge, it launches the Flotilla with the requisite pomp and circumstance. But you might want to get there early, like the Mid-City neighbors do, and pack along a picnic and a cooler of beer.
The free event is a great place to kick back on the Bayou under one of the spreading oak trees, where folks will be grilling Fourth of July hotdogs and popping a few cold ones to toast Uncle Sam. Just be sure to pack a plastic garbage bag along as well, so you can take your trash with you when you leave.
"Throwing trash in a bin isn't enough," says Brees, a committed eco-activist who's spearheading a movement to make Mardi Gras green by replacing toxic Chinese beads with handmade throws. "You have to bring it home. Bayou St. John is a gorgeous habitat and a real treasure for New Orleans. We want to help preserve that. "
Fourth Annual July Fourth Flotilla runs from 5-8pm on Bayou St. John at Dumaine and Moss. Costumes are encouraged, but "no glitter or cheap feather boas (they shed like crazy)." For more info, and specs for people who want to join the floating parade, see the event page on Facebook.
Photo by Matt Goldman.