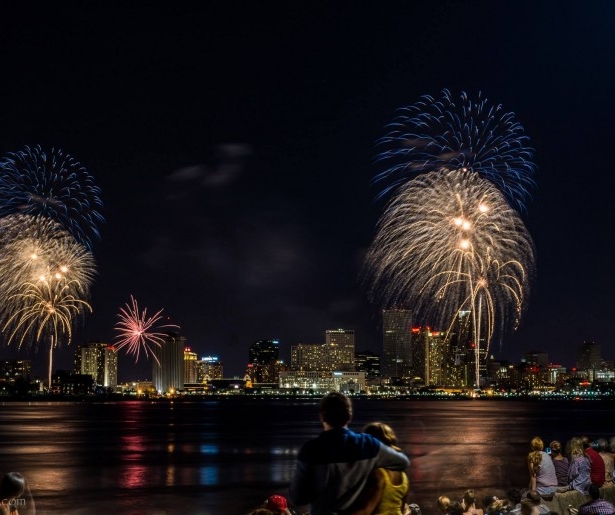 SHARE
While New Orleans, as a city, sometimes feels more Caribbean than American, it is also totally American, and as such, is game to throw a big celebration on 4th of July weekend. Here are some tips on maximizing Independence Day in the city.
The 4th of July Flotilla on Bayou St John
Our personal pick of the litter is this aquatic parade on Bayou St John, which features the art installations of the Krewes of Kolossos and Chewbacchus. Expect crazy enormous weird art stuff presented by some of the city's most creative folks, dance troupes and brass bands. Goes from 5-8pm.
The Dueling Barges Fireworks Show
This is by far the most popular fireworks display in the city. It kicks off at 9pm on July 4th when two river barges basically light up the sky with a 15 minute (or so) firework display along the Mississippi river. You can see the action from across the Quarter, with Woldenberg Park being the natural best spot for a good view.
Gen. Roy S. Kelley fireboat
If you're an early bird or just don't want to bother with 9pm fireworks, the Gen. Roy S. Kelley fireboat will spout red, white and blue water at 6pm on the river.
Algiers
If you want a less crowded view of the dueling barges show, take the Algiers Ferry to the West Bank and join a nice mix of families and revelers on the other side of the river.
Dat Dog
If you get the right seats on the balcony at the location at the corner of Frenchmen and Chartres, you may be able to both see the fireworks and eat a crawfish topped hot dog, and if that isn't America, I don't know what is. Either way, getting a Dat Dog sausage should be on your schedule.
Crescent Park
Just in time for the fourth, the Crescent Park , which runs along the river, has now opened its Marigny section. The park will afford great views of the fireworks and is open until midnight on Saturday.
Image courtesy of Enigma Arts Photography.