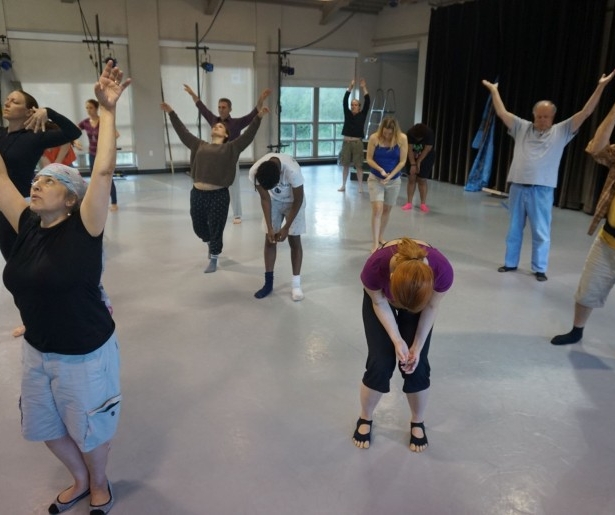 SHARE
Lurching mechanical ships pelted with "rain" often set the stage for big-budget theatrical productions of The Tempest, while movies use special effects to conjure the storm at sea that grounds Antonio's ship on the shoals of Prospero's island.
Rebecca Frank had far more limited funds available for her Bywater production of Shakepeare's fantasy, being staged over the next two weekends at the Old Ironworks (612 Piety St., July 10-18, Friday-Sunday. 7:30 pm).
So she had to get creative to work Prospero's magic.
Frank's solution? The players themselves become the sea and use their bodies to simulate the undulating ocean, which gradually morphs from gentle waves into a raging tsunami. When the storm hits its peak, the actors transform into the beleaguered ship, using a few pieces of architectural salvage to indicate the vessel's hulk as it's tossed by the roiling surf.
I caught Frank's living tempest in rehearsal, and it's a stunning visual image. Choreographed by Jeffrey Gunshol, the kinetic tableau is powered by the music of Ratty Scurvics, who plays handmade instruments he built for the show.
To animate the ocean, Scurvics plucks an Egyptian oud-like stringed instrument he calls Storm, which he conceived and fabricated during a tumultuous New Orleans downpour. And to make the skies rumble with thunder, Scurvics and other players thump on square, wood-framed drums tightly wrapped with plastic sheeting.
"I like trying to find a clear path through dense, classical texts with music and movement, " says Frank, who previously collaborated with Gunshol and Scurvics on a production of The Skriker. "And I am transfixed by the sheer poetry of this play. It is one of Shakespeare's most musical."
Though she's revisited The Tempest many times before, as audience member, actor and assistant director, this is Frank's first turn directing the play. It's also her debut as head of her own troupe, In Good Company, which is co-producing the show with longtime collaborator Stephen Eckert's Promethean Theatre. And what better place to launch her new company than her own downtown neighborhood?
"Before Katrina, when I first started doing theatre in New Orleans, it was very segregated from downtown," says Frank, a Tulane Shakespeare Festival vet who received her MFA from Tulane. "I was living downtown, and working at Mimi's and dating [now-husband] Mike [Andrepont] from the Morning 40 Federation. But my theatre life was always uptown, and always very separated from my social life."
Not anymore. Frank's idea for "Neighborhood Shakespeare" was born in Bon Castor, the Bywater shop owned by her pal Amy Knoll. An avid theatre fan who grew up in Steppenwolf-era Chicago, Knoll became Frank's theatre-going buddy and urged her BFF to realize her downtown dream.
"I had just seen this fabulous production of The Tempest at La Mama in New York," recalls Frank. "So I texted Amy: The Tempest. And she texted me: YES!!!!"
Once she settled on The Tempest, Frank quickly recruited downtown icon Ratty Scurvics as musical director and Andrepont as technical director, and tapped other neighborhood friends for both onstage and backstage roles.
She also reached out to a theatrical hero from her formative years in Atlanta: mentor and former acting teacher Kathleen McManus, a New Orleans native who'll be making her first-ever hometown appearance playing Ariel in The Tempest.
"It was always her dream to perform in her own hometown, so that's the cherry on top," says Frank. "And Kathleen's husband, John Ammerman, is playing Prospero. These amazing artists are people I grew up watching."
McManus and Ammerman are among five Equity actors making scale in The Tempest, and Frank bent over backwards to make sure that non-union actors were fairly paid as well. "That was very important to me as an actor," says Frank. "All artists need to be paid."
To make their "labor of love," happen, Frank and co-producer Stephen Eckert sank $10,000 of their own money into The Tempest and crowdsourced over $5,000 more at Hatchfund.org, mostly from small contributions. That enabled them to a stage a professional production at a price their downtown friends and neighbors could afford.
"Tickets are really cheap: $15," says Frank. "I would like to have done it for $10, but that wasn't really feasible with our budget." She's "gathering chairs as we speak," and expects to seat about 50 people nightly at the outdoor production, which can be moved inside the Old Ironworks building in the event of rain.
"There is no better place for the show than the Old Ironworks on Piety Street, less than a block away from the Mississippi River," says Frank, who lives nearby. "It's a Valentine to my neighborhood."
A play about a storm is also bound to resonate deeply among New Orleanians who, like Frank herself, lived through Katrina."
"It's funny," says Frank. "We didn't even think about Katrina when we first decided to do The Tempest." But it didn't take long for her to see the connection, which she writes about quite eloquently on The Tempest Hatchfund page:
"It is impossible to ignore that ten years ago a massive storm slammed into the Gulf Coast, and changed this city forever. The Tempest is about a very different storm, under very different circumstances. But what speaks to me now after all these years is not so much what occurred, but rather how we dealt with and are continuing to deal with the aftermath."
"The Tempest" runs July 10-18, Friday-Sunday, at 7:30 pm at Old Ironworks, 612 Piety St. Tickets are $15 at Brown Paper Tickets. There's also a special Pay-What-You-Will Industry Night performance on Monday, July 13 at 7:30 pm.
Above imaghe: The cast of the Tempest rehearse. Photo by Laura Owens