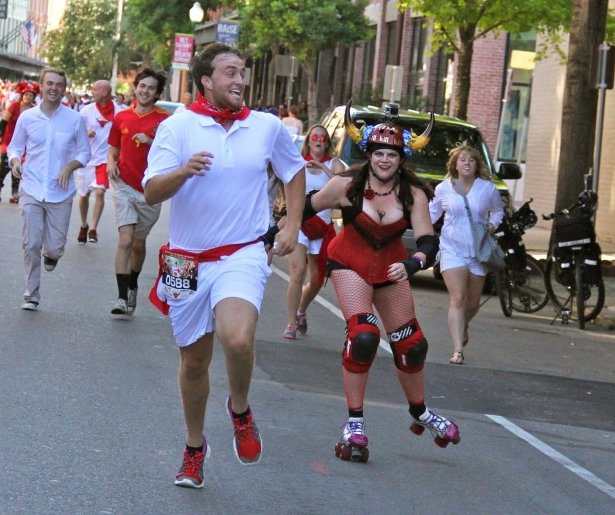 SHARE
It's not midsummer in New Orleans if there aren't packs of roller girls dressed as angry bovines running down crowds of random revelers in the streets.
Did that statement throw you? Then you haven't been to New Orleans for San Fermin en Nuevo Orleans, also known to most folks as the New Orleans Running of the Bulls.
The run, and the associated acts of eating, partying and affable camaraderie it engenders, goes off on Jul 11, but this entire weekend will be packed with bull run related activities. But first: a primer for those who don't already know on why they may expect to see an otherwise nondescript office worker from Baton Rouge get mercilessly pummeled by the greater roller derby population of Austin, TX in New Orleans on the second weekend of July.
See, the New Orleans encierro (the Spanish term for the run) has a long and storied tradition that goes back throughout the ages…well, OK. It's nine years old in 2015, but it has grown from a group of friends jogging through the Quarter into a spectacle that easily draws crowds in the thousands. The run used to go through the French Quarter, but today it centers on the CBD and Warehouse District.
The bull run does not involve actual bulls, of course. That would be ridiculous. No, the crowds are chased by roller derby girls from regional derby leagues dressed as bulls wielding giant whiffle bats, which, OK, actually sounds pretty ridiculous.

Of course it's actually fun, and about as amusing to watch if you're on the sidelines; if you want to spectate, get to the CBD around 7am to stake a good spot (route map here). The people who take the silliness seriously, as it were, make mad dashes for safety as roving packs of roller girls hunt their prey. Admittedly, the size of the crowds has reduced the urgency of the run – these days, it feels possible to hide in a large pack and never really risk getting whacked by a derby bull.
The experience of the bull run, if you're being chased, is one of strolling in a giant mass while being ever aware of the potential of a roller girl thwacking your derrier. Every now and then the throngs break up as a roller girl (or girls) 'charges' the crowd. Sadly, these days there are a lot of participants who refuse to get in the spirit of the thing and take their hits without breaking into a run, which can be a buzzkill. Pro tip from New Orleans & Me: If you're doing the Running of the Bulls, run when you see the bulls.

As you may have guessed, the bull run is by and large a boozy affair, and the event involves lots of impromptu street dance parties and music. Everything begins on Saturday with a big party at the Sugar Mill (1021 Convention Center Blvd), starting around 7:15am. Beer and wine is plentiful, and after runners get fueled up, as it were, they take off at 8am sharp.
The route leads back to the Sugar Mill, where a post run party will be headlined by Vivaz and Brice Nice, and catered by a small fleet of food trucks. To get in to the party, there's a whole hierarchy of pricing and admission tiers (info available here). Long story short, $15 is the baseline fee to attend. $25 gets you in with gear, and $80 scores a VIP pass. You must wear a white outfit with a red sash and necktie to run in the encierro.
San Fermin en Nuevo Orleans now spans an entire weekend and then some of activities, including:
Spanish Wine Dinner Four courses of delicious food paired with excellent Spanish wine served in the luxurious Bourbon Orleans Hotel Sounds good. Thursday, July 9 at 7pm.
El Txupinazo A wild kick-off party of the bull run for VIP participants. Held on Friday evening.
La Fiesta de Pantalones I.e. the pants party, a free throwdown held at 4pm on Saturday at Maison.
El Pobre de Mi (Poor Me) As relaxing a day as this weekend may offer, this Sunday wind down involves tapas brunch and a Hemingway look alike contest. Starts at 12:30pm on Sunday at Maison.
For more information, and to register for the above events, check out San Fermin en Nuevo Orleans.
Image courtesy of Facebook.