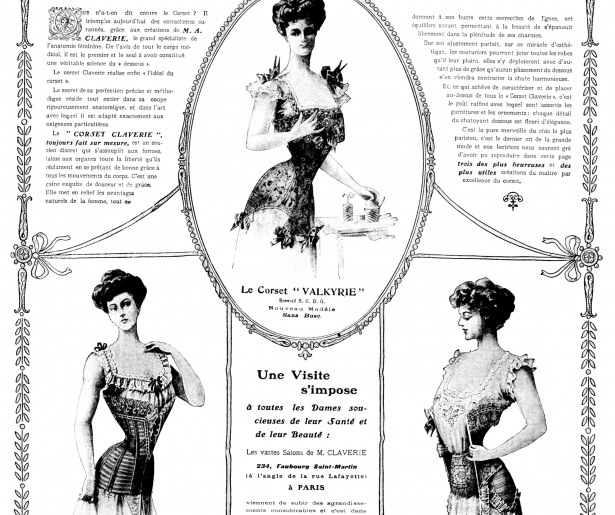 SHARE
Bust out your bustiers and fire up those glue guns! It's time to get creative for the annual Corset Crawl!
First annual, to be precise. While the name Corset Crawl reeks of a time-honored New Orleans tradition, it's actually the very first year that gals and guys will lace up their bodices, Scarlett O'Hara-style, and strut their stuff up and down Freret Street whilst downing beverages and sampling tapas.
And it's not too late to join party. Open registration for costumed Corset Crawlers starts at 2:30pm on Saturday, July 25, at La Nuit Theatre, where revelers can also practice their moves for the _Rocky Horror_-inspired flash mob that happens mid-crawl. The crawl itself kicks off at The Other Bar, right next door to La Nuit, at 3:30 pm.
"Anyone can participate," says Christy Soto, executive director of The Creativity Collective, which produces the event. Corset Crawl is a spinoff from another fast-growing new tradition: Bridal Crawl, now in its third year. Looking to expand on the success of that popular co-ed crawl – "it's like Red Dress Run in wedding dresses" — Soto asked her board for suggestions.
"One of the board members happened to say 'bra crawl,' by mistake," she recalls. "And we were all like: that's it!" Bra crawl quickly morphed into the more alliterative Corset Crawl "because corsets are so New Orleans," says Soto. "Almost everyone in this town seems to own one, even the men."
Waist-pinching corsets have a long, colorful history that peaked during the Victorian era, when hourglass figures were all the rage. Crawlers looking for inspiration can turn to everything from sassy Storyville and burlesque motifs to Burning Man variations of gosseted steampunk leather.
"The corset is such a great palette to work with," notes Soto. "It's an amazing canvas you can wear."
Corset Crawlers who make it through the entire seven-hour marathon will make pit stops at Dat Dog, Gasa Gasa, Cure, Midway Pizza, Wayfare and Ancora, which will have small-plate food on tap as well as drinks. Wristbands are $13 in advance, $15 at the door, and entitle crawlers to discounts on food and drink specials at every stop. They also help support a good cause.
The crawl-with-a-purpose benefits Creative Collective's educational outreach program Gradeuxity, which encourages kids to stay in school. The group presents graduating seniors with a check for $50, along with a book of tips on practical life skills, like how to open a bank account and buy a car.
"When kids drop out of school, it sets a culture of failure in motion," says Soto, who hopes to turn that dynamic around by creating positive reinforcement. "Gradeuxity is a gratuity for graduates, a way of saying thank you to kids for staying focused and finishing school."
Corset Crawlers who stay focused while creating their decorative cinchers will also be rewarded for a job well done. Best-of-crawl prizes will be awarded for the most artistic individual and group-themed corsets in several categories.
Corset Crawl takes over Freret Street on Saturday, July 25, and runs from 3:30-10:30pm. Open registration begins at 2:30pm at La Nuit Theatre, 5039 Freret St. For more info, and to purchase wristbands ($13 in advance, $15 at the door). Click here for more information.
Image courtesy of Wikipedia.