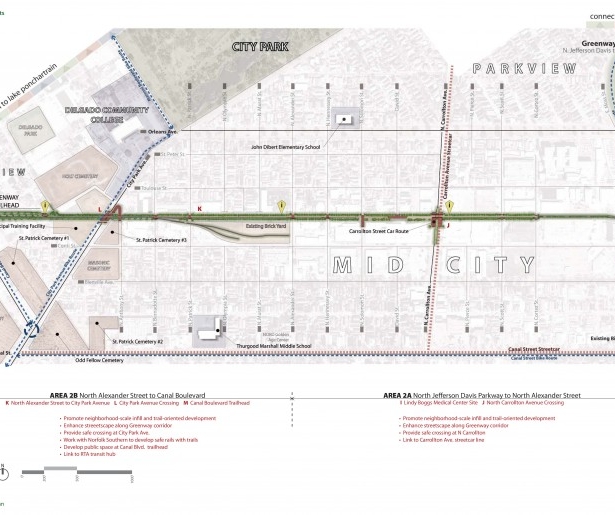 SHARE
There's a big meeting for Friends of the Lafitte Corridor tonight, from 6:30-8pm.
What's the Greenway, you say? One of the more important urban improvement plans on the tabe for the citizens of New Orleans. Excuse us as we lift off of the FOLC website.
Greenways are linear open spaces along natural or human-made features such as rivers, ridgelines, railroads, canals or roads. they are planned, designed, and managed to connect and to protect ecological, scenic, recreational, and cultural resources….Urban planners are increasingly hoping that connected landscape corridors provide more than recreational opportunities. They are promoting metropolitan greenway networks that help shape urban growth, contribute critical environmental values, and indeed, place economic development and neighborhood revitalization.
And where, might you ask, is the Lafitte Corridor? FOLC to the rescue again: "[T]he largely derelict strip of land in New Orleans, Louisiana, along the old Norfolk Southern Rail Line from Basin Street to Canal Boulevard next to St. Louis Avenue."
Put it another way: imagine all that tumbleweed and prickly bush and empty dealer plots that runs parallel to you as you drive to the Mid-City Rouses on your way to make groceries. Now replace that blighted clutter with bikepaths, trees, park space and pedestrian walkways.
Seems like an important thing to attend. Hope to see you there:
6:30-8pm
Sojourner Truth Neighborhood Center
2200 Lafitte Street (at Galvez)