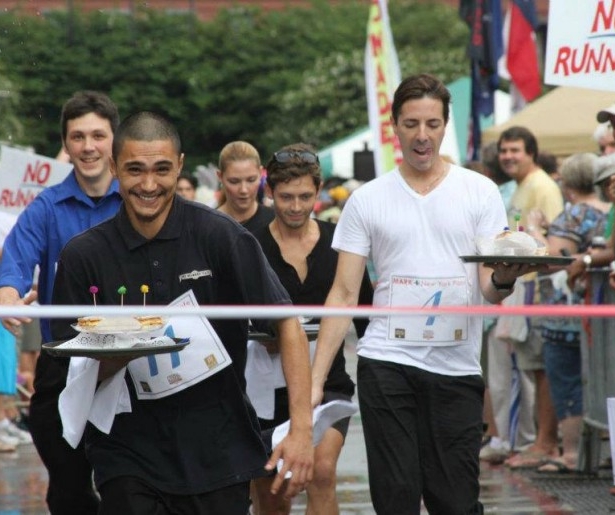 SHARE
And they're off!
Like the Kentucky Derby, a.k.a. "the greatest two minutes in sports," the French Market Bartender & Waiters Race doesn't last very long. But the annual service industry competition, which is part of Bastille Day NOLA, packs a lot of excitement into a four-block course that's lined with festively costumed spectators cheering their favorites on.
"We love having the crowd," says longtime competitor Brian Ricard, a server at Antoine's, who consistently places among the top three racers. "That's what makes it so fun: having people cheer for us. Winners get various prizes, but even if we only got a free flag, I think we'd all still be doing it."
Get there early to get a good spot at this year's event , scheduled for Sunday, July 12. After a second-line band clears the way, the race starts promptly at 4 pm at Washington Artillery Park (across from Jackson Square), and travels downtown on Decatur Street to the Joan of Arc statue at St. Phillip.
Three preliminary heats of 10 racers each winnow down the field of 30 competitors, who must speedwalk their way to the finish line while balancing trays bearing plastic cups of liquid. Top racers from the early heats vie for glory in the final race, but crossing the finish line first doesn't guarantee a win.
"It's who finishes first with the most liquid," says Tales of the Cocktail Founder Ann Tuennerman, one of three eagle-eyed judges who make that call after racers place their trays on the judges' table at the end of each heat. "And that takes a lot of discipline. Everyone is walking fast, but if you start running to try and catch up, you're not going to have any liquid left."
Brian Ricard learned that the hard way. "One year, I was neck and neck with another racer in the final heat," he recalls. "Then I sped up to pass him, and everything spilled."
Racers must also factor in that they're jockeying plastic, not glass, like they normally would on the job. "Plastic makes it trickier," says Picard, "because it's lighter and more top-heavy than glass."
Seasoned competitors like Picard have been racing since 2010, when the French Market Corporation resurrected a pre-Katrina tradition of Waiters' Races that were originally run by the hospitality industry.
"When I revived the race, I changed it to include bartenders," says French Market marketing director Amy Kirk. "Because this is New Orleans!"
After researching the origin of Waiters' Races, which date back to turn-of-the-century Paris, Kirk added a France-via-New Orleans twist: costumed characters. French maids, mimes, Napoleon and Marie Antoinette – "all in jogging shorts, naturally" – will be mingling with the crowd and cheering from the sidelines as speedwalking racers step lively with their trays aloft.
Racers compete in their formal work uniforms, complete with aprons (though a few add decorative touches, like red, white and blue face paint in honor of the French flag). But, just like Kentucky Derby-goers, most spectators dress to kill.
"Lots of people wear fun costumes," says Tuennerman. "Like a good friend of mine says: In New Orleans, we don't get dressed. We costume."
The 6th Annual French Market Bartender & Waiters Race starts promptly at 4 pm at Washington Artillery Park (across from Jackson Square) on Sunday, July 12.
Image courtesy of Bastille Day New Orleans.