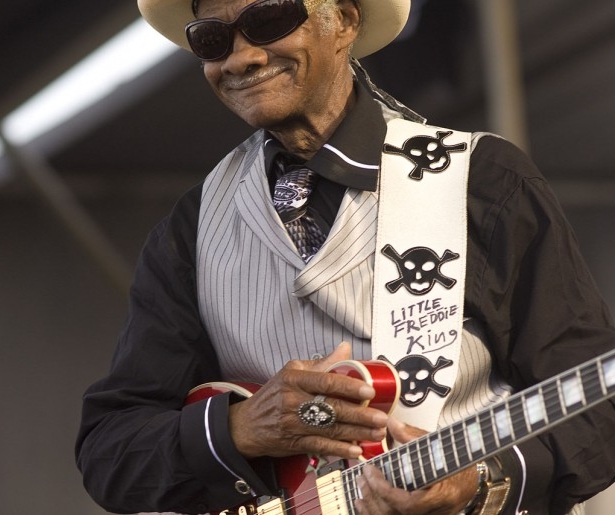 SHARE
We've got some legacy musicians in New Orleans, the sort of folks who have been bedrocks of not just our local scene, but the fabric of American music history. Among this pantheon of players, it's hard to think of a guy with more charisma and presence than Little Freddie King.
King is a cousin of the legendary Lightnin' Hopkins, who was perhaps the most iconic bluesman Texas ever produced. But where Hopkins perfected a hardscrabble style of rustic acoustic playing, King, who moved to New Orleans in 1954, followed a different path.
While King is a famous Delta bluesman, he recorded New Orleans' first electric blues album with Harmonica Williams in 1969. The sounds he perfected almost four decades ago carry into today, a hot, in your face style of blues rock that is as sharp in Chiacgo as it is in a Delta cotton field – or a New Orleans club as the case may be (he's a regular at BJ's).
King is a member of the Louisiana Music Hall of Fame and has been playing Jazz Fest for 42 years. Here he is playing Pauger Street Boogie at Basin St Station. This performance is an excerpt from New Orleans Calling, which is produced by WWOZ and Live From Basin St Station.
Image courtesy of Wiki Commons.