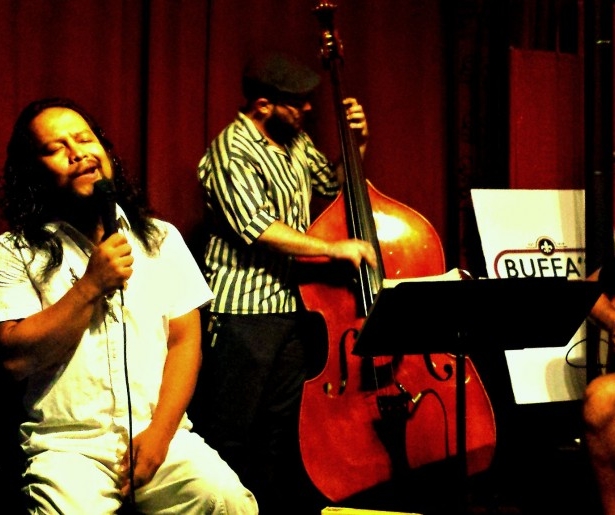 SHARE
I think we all have a Platonic ideal of a New Orleans musical experience. For some, it's a Second Line that bumps up and down city streets accompanied by dancing and heavy percussion. For others, it's an evening of zydeco and dancing. And for some, it's a small, sultry club pierced by the voice of an excellent jazz crooner.
My mom falls into the latter category. She loves a good set of pipes, and when she visited New Orleans last week, I wanted to take her to the sort of show that indulged some kick butt vocals. This usually involves seeing female singers; maybe I've just been acculturated by too many smoky film noir scenes, but it feels like there's something about a woman's voice that naturally lends itself to jazz singing.
This is a town that doesn't lack for excellent female vocal acts. But the male jazz crooner feels like more of a rarity. With that said, there's a few notable exceptions to this rule: the obvious acts, like John Boutte, and the lesser known, but equally impressive Antoine Diel.
Diel was raised in Los Angeles but born in Manila, in the Philippines, a country that has a strong track record of producing some of the finest tenors anywhere. Diel is clearly a torch bearer of this tradition; his vocal range is incredible, ranging from high octaves that he can sustain with impressive breath control to low registers that glow with a lovely rich warmth.

Both sides of this musical coin fit the slow jazz croon bill: those high notes really punctuate and spice up the languorous rhythm of his sets, while the low tones provide a comfortable sonic road for listeners to follow. Long story short, my mom loved it.
That's not to say Diel does the kind of show only a mother could love. We caught his set at Buffa's (which, aside, is truly a great, criminally underrated food and music venue. Go there. Now) and a crowd that cut across all demographics – old, young, white, black, tourist, local – all rocked quite pleasantly out to Diel's music.
Long story short: Antoine Diel is a worthy inheritor of the great vocal traditions of New Orleans music, and he seems like a nice guy to boot. He plays regularly around town with his band, the New Orleans Misfit Power. Find him online, and in the city the next time you head out.