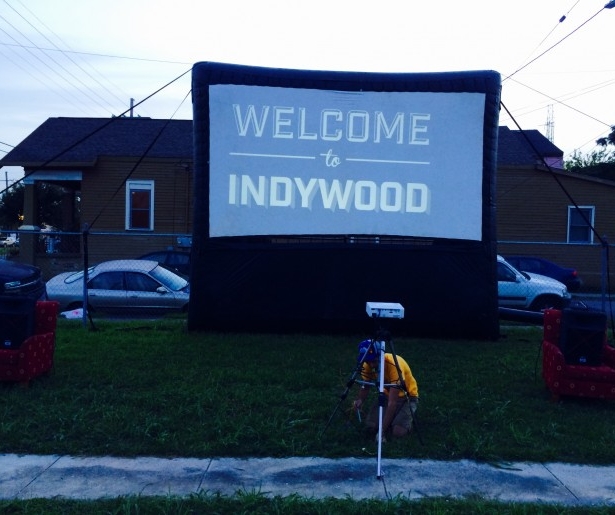 SHARE
There's a full moon high in the sky above St. Claude Avenue, where a steady stream of cyclists are chaining up their bikes to the wrought-iron fence outside a big empty lot near the Saturn Bar. Propped against the fence, a makeshift marquee lights the way to their destination: Indywood Movie Theater, spelled out in little round bulbs.
Inside the gate, on the grassy lawn, Bike-In movie-goers are spreading out blankets, setting up folding chairs, uncorking wine, and digging into popcorn sold next to the folding table that serves as an as hoc box office, where free bug spray is also available. Looming above us, an inflatable screen flashes a friendly greeting:
"Welcome to Indywood."
Last week, that screen traveled to Bark Market for a Bark-In Movie, where 40 dogs (and 90 humans) howled along with the marauding canines in the Hungarian film White God. Tonight, it transports us to the haunting odyssey of Kumiko, the Treasure Hunter, a Japanese woman obsessed with finding the briefcase of cash Steve Buscemi buried in Fargo. Later this summer, the inflatable screen will visit a pool for the Swim-In world premiere of the locally-shot Zombie Shark.
"We like our community to be mobile so we can do things like that," says Will Sampson, who launched Indywood with his sister Hayley in January, 2014, at its original location: an old Wash-Dry-Fold on Elysian Fields. Mobility became a necessity on June 9, when the landlord told the siblings it was time to move on.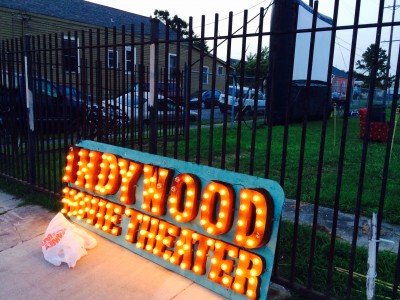 "We outgrew the building," says Sampson, summing up their ouster in a nutshell. Indeed, Indywood became so popular it was averaging about 1,000 movie-goers a month before the landlord pulled the plug, thanks in part to buzz-building events like hosting Solange Knowles' pre-nuptial screening of Mahogany.
The silver lining of getting the boot? "It forced us to realized that we want to get bigger and grow," says Sampson, who's hot on the trail of several downtown venues and expects to reopen in a new permanent location on or before Indywood's second birthday in January 2016.
Meanwhile, Bike-In Movies is keeping Indywood alive as a moveable cinematic feast. And judging by Kumiko, which drew over a hundred movie-goers with just two days notice on a Facebook page, it's fast becoming a don't-miss event for local cinephiles and a who's-who of downtown cognoscenti.
"Our community is aggressively supportive," notes Sampson, citing sponsors like small local retailers Bon Castor and Dirty Coast. New Orleans filmmaker Jason Matherne donated Indywood's inflatable screen and lent the team a portable generator, while the vacant lot we're sitting in tonight was supplied gratis by the owner of The Franklin and Mimi's in the Marigny.
While we wait for the main feature, the screen holds our attention with local cinematic history ("the first movie theater in the US opened in New Orleans in 1896"); a delightful "Indywood Pitch (with Legos)," starring a Lego people cast-of-thousands; and trailers for "Token Empire," a local web series now in production.

Prequels like these aren't just entertaining. They underscore the Indywood mission: making, promoting and screening independent films, series and shorts, not only in New Orleans but across the US and around the world.
"We want to experiment with what the cinematic experience can be in the 21st century," says Sampson, a filmmaker himself, who plans to publish a "manifesto" on how to start your own movie theater. "We license all our films, and pay our taxes, but we're a bit of a pirate operation. We could be a model for indie films everywhere."
Indywood continues its Bike-In Movie series at various locations on most Friday nights, throughout the summer and beyond. For an ever-evolving schedule of upcoming films and other events, check the Indywood Facebook page.