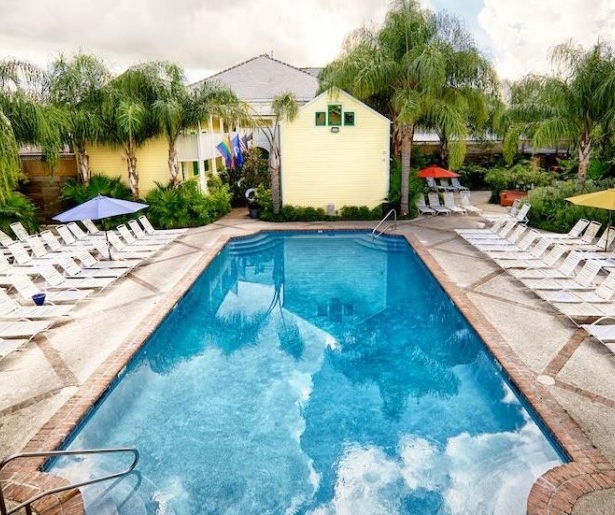 Cool off, New Orleans, you are steaming hot. It is time to get wet, and not just from the regular afternoon thunderstorms. Despite a few notable closures on the NOLA swimming scene there are still plenty of options for taking a dip as temperatures rise in the Crescent City. From free to swanky, here is a rundown of spots to take a dip in 2015.
Stallings St Claude Pool
4300 St Claude Ave
(504) 658-3053
Mon-Fri: 8am-6pm, Sat: 9am-4pm, Sun: 2-6pm
This newly opened swimming destination is operated by the New Orleans Department of Recreation and is free and open to the public. Adults and kids can relax poolside and soak in the rays of summer. Lifeguards are always on duty, and proper swim attire is required. Swimming lessons are also available. Note that standard pool closures due to weather apply. There are 17 NORDC pools citywide, so if you don't want to make the journey downtown, go here for a full list of swimming pools by neighborhood. Note that all indoor pools are close from 12:noon until 1:30pm on Monday, Wednesday and Friday for mandatory maintenance and cleaning.
UNO Aquatic Center
UNO Lakefront Arena, 6801 Franklin Avenue
(504) 280-7238
Check online schedule for hours
From Monday through Saturday, the Aquatic Center at the University of New Orleans is open to the public. $5 gets you access to both the indoor and outdoor pools. The center, featuring a 50m indoor pool and a 25yd outdoor pool, can also be rented for birthing parties and other special events. Indoor pool is for lap swimming only with the outdoor pool divided between lap and recreational swim. Schedule and membership rates are available online.
Cool Zoo/Gator Run
Auzubon Zoo, 6500 Magazine Street
(504) 861-2537
Mon-Fri.: 10am-5pm, Sat-Sun: 10am-6pm
Cool Zoo began as a splash park for kids to cool off, but this year a new addition invites all ages to partake in the fun. Grab a tube and kick your feet up because the Gator Run promises 750 feet of lazy river equipped with four water cannons, two water curtains and jumping jets. Flanking the river are two sand beaches with lounge chairs.
Proper swimming attire is required but the park does offer showers, a restroom and changing area. Rafts are no extra charge. Children under 48 inches must wear a life vest. Admission is $12 for members, $10 for non-members as an additional purchase to the regular Zoo ticket. For more information, go here.
The Country Club
634 Louisa Street
(504) 945- 0742
Bar & Pool Daily, 10am-1am
The Country Club is a sparkling gem in the Bywater where their saltwater pool beacons seven days a week, proper swimwear required. The pool area in the back is membership based, but individuals 21 and over may purchase a day pass to enjoy the heated/chilled pool, hot tub, sauna house and cabana bar.
Day passes run $10 a head Monday through Friday, while on Saturday & Sunday they cost $15, with a special rate of $8 after 5pm daily. Order food from the killer restaurant inside or check seasonally for the outside grill station. Tunes, friends and delicious drinks in a private tropical oasis – what more could you need? Sunblock. Don't miss happy hour daily from 5-8pm and any time it rains. (Note: Membership fee may vary with special events.)
The Roosevelt Hotel
130 Roosevelt Way
For reservations, call (504) 335-3190
Prices vary by service.
Feeling swanky? Book a spa service at their world-class Waldorf-Astoria Spa and gain access to the hotel's rooftop pool and amenities. The spa boasts a variety of treatments from facials to full body massages to couples packages. Prices vary by service. Lounge chairs and intimate seating areas fan the pool deck. Enjoy lite bites and drinks from the rooftop bar while you soak in the sun.
Image courtesy of The Country Club.