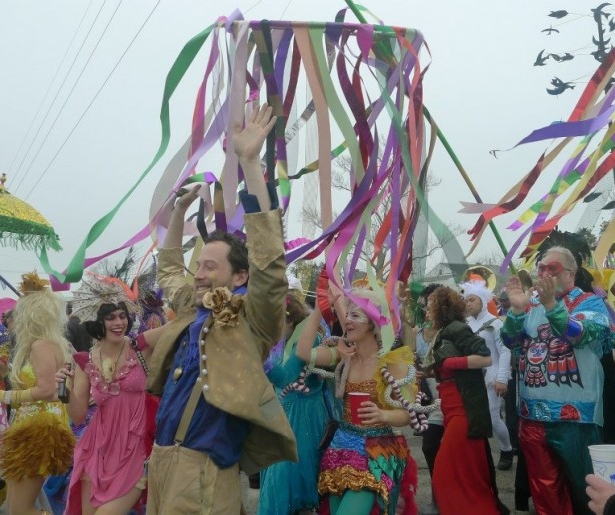 SHARE
New Orleans has always occupied a special place in the literary consciousness of America. The main port of the Mississippi, an ethnically jumbled Creole enclave with an attitude that heavily mixes tolerance and a propensity for fun, is a town made for those who identify with the writing tribe.
The Crescent City and her characters have occupied pride of place in many novels, memoirs and essays. Now you can travel these literary byways, thanks to Atlas Obscura.
Obscura is a site dedicated to the world's "wondrous and curious places", and seeing how 'wondrous and curious' are two qualities New Orleans does quite well, it's no surprise the city features heavily on AO's latest map: a guide to American literature's most epic road trips.
The map follows colored lines that represent the trajectory of a given book across the USA, and it's pretty telling how many of these lines pass through New Orleans. The majority of N.O. related dots can be traced to Jack Kerouac's On The Road, and each dot is accompanied by a passage that speaks to both authors and place. Upon entering New Orleans, Kerouac wrote:
At dusk we were coming into the humming streets of New Orleans. 'Oh, smell the people!' yelled Dean with his face out the window, sniffing. 'Ah! God! Life!' He swung around a trolley. 'Yes!' He darted the car and looked in every direction for girls. 'Look at her!' The air was so sweet in New Orleans it seemed to come in soft bandannas; and you could smell the river and really smell the people, and mud, and molasses, and every kind of tropical exhalation with your nose suddenly removed from the dry ices of a Northern winter.
On Algiers.
From bushy shores where infinitesimal men fished with sticks, and from delta sleeps that stretched up along the reddening land, the big humpbacked river with its mainstream leaping came coiling around Algiers like a snake, with a nameless rumble.
And from A Walk Across America, by Peter Jenkins.
New Orleans thrived, almost six hundred thousand strong at the end of the Mississippi shoreline. Originally I had planned to live in the wildest district of the French Quarter, but now it didn't seem the right place for me. I crossed into the city limits on Old Highway 90 and felt as if I were walking underwater. The intense humidity was like a sauna.
There's more: from On The Road and John Steinbeck's Travels With Charley and other titles. And plenty of Louisiana descriptions as well, like this vignette of Cajun Country courtesy from Blue Highways, my personal favorite American road trip memoir. Courtesy of William Least-Heat Moon, here's Henderson, LA:
"At Henderson I found a wooden building hanging over Bayou Peyronnet just below the massive west levee of the Atchafalaya River basin; the heavy air of increase smelled of marine creatures and mud and hot peppers."
Enjoy, and here's to hoping your next road trip comes through the city art the mouth of the Mississippi.