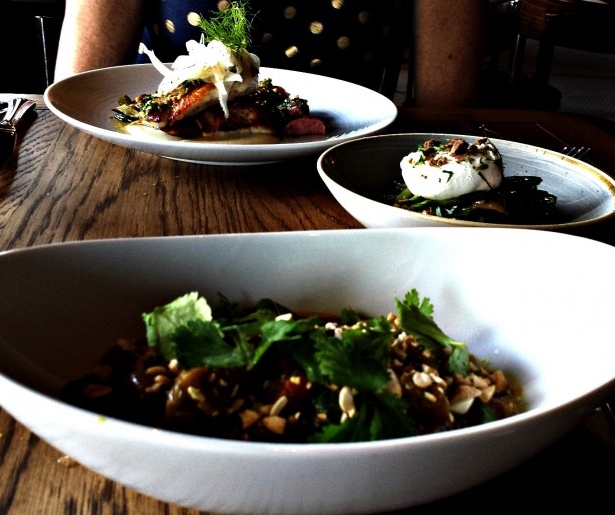 SHARE
When I finished watching Top Chef: New Orleans on Bravo, I walked away feeling like second place finisher Nina Compton had been robbed. It wasn't that the ultimate winner, Nicholas Elmi, was a classic reality show bad guy; he seemed like a decent and hardworking dude.
It was just that, for all the qualities Elmi possessed, Compton still seemed, with her quiet dedication, sense of humor and incredible work ethic, more deserving. I wasn't the only one sharing these sentiments; after Elmi was declared the winner of the competition, it was revealed Compton was the season's fan favorite.
Compton left the series bearing the love of a good slice of the American public, while retaining for herself a love of New Orleans, which she had never visited prior to the show. Now the formerly Miami-based chef has, like so many others, returned home to the Crescent City, and set up shop with her newest venture: Compere Lapin, based out of the Warehouse District.
You can take Compton out of Miami, but there will likely always be a bit of Miami in the chef. With that said, New Orleans is a natural new home for her self-described Caribbean-Creole fusion cuisine. Compton's roots trace back to Saint Lucia, and while Miami is located within that region's flavor membrane, the heavy presence of Latin American cuisine understandably dominates the South Florida gastronomic scene. New Orleans, on the other hand, revels in the qualities of Creole, and 'Creole' as a culinary concept – mixing cuisines, and quite specifically, the cuisines of France and Africa – is the foundation of Compere Lapin's menu (Compere Lapin roughly translates as 'Brother Rabbit', and is the Franco-Caribbean term for a Brer Rabbit-esque trickster figure).
To be fair, Compton most commonly draws on the culinary traditions of her home island, and Lapin dips its paws, as it were, into recipes, ingredients, and indeed, continents traditionally outside of the realm of classic New Orleans Creole cooking. The goat curry topped with cashews and plantains, for example, is largely a crossroads of cuisines that line the Indian Ocean, introduced by way of the Caribbean, where African and Indian laborers blended race and recipes.
The interior is modern Warehouse District restaurant to the bone, or more accurately, to the exposed brick and rustic wood/tempered metal walls and accouterments. It's open and airy, and in many ways, bleeds directly into the lobby of The Old No. 77 Hotel, where the restaurant is located.
Cocktails came out strong, with surprising flavors, which in and of itself is a relief, given the way this town is reaching peak cocktail saturation. But Lapin has the behind the bar talent to keep its drinks menu fresh and distinctive – namely, Abigail Gullo, formerly of Sobou, and Ricky Gomez, one of the original bartending boys at Cure.
Conch is a staple of the Caribbean menu and seemed a must try. The shellfish was cooked in croquettes accompanied by a pineapple tartar sauce that glowed with a sun-blessed warmth, but possessed enough tropical juice to cool the tongue. It was tasty, but outshone by cold smoked tuna tartar, avocado and crispy bananas, a riot of textures – smooth, oily, crunchy – and flavors – briny, creamy, sweet.
The goat curry was laced with the sort of incense-y sweet scent of an Indian spice market, but the burn it left on my tongue was strictly Scotch Bonnet-esque, a recall of the fruity peppers of the Caribbean. Some of the accompanying cashews had a satisfying crunch, but those soaked in the curry gravy had taken on a bit of mushy consistency.
My partner's drum was comfortably soft and deliciously charred, the right combination of fishy and firm, and its fennel garnish added a crisp, herbaceous twist – an unexpected (but not unappreciated) departure, it seemed, from the usual citrus, sweet and spice flavor profiles I had been expecting.
Service was brilliantly New Orleans-esque; our waitress was friendly but unobtrusive, helpful but aware of when to step back from the table, and had apparently met my wife at a party in the past few months. Such is life in this city, which appreciates cosmopolitanism and coziness in the same humid breath, an air that Compere Lapin seems to comfortably breathe.