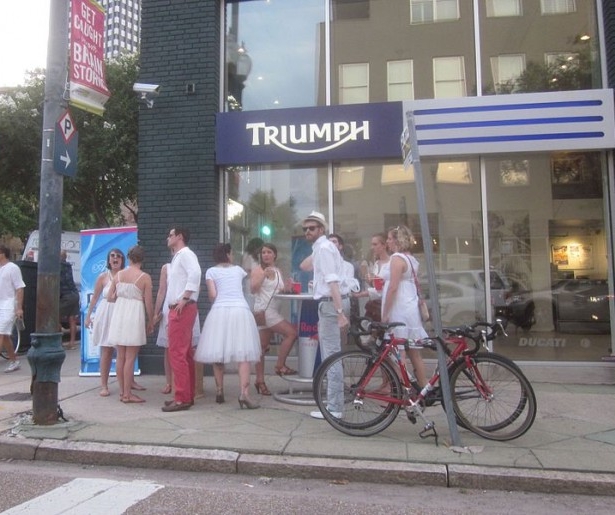 SHARE
The first rule of White Linen Night is: there is no White Linen Night.
Well, not really. That's a demonstrably false statement, because of course, on Aug 1, the city celebrates Whitney White Linen Night. From 6-9pm , some 20 museums and galleries centered on Julia St will throw their doors open to the public. The event was conceived of as a way to promote the arts and keep tourists in New Orleans during the worst heat of the year, and it has succeeded – expect thousands of attendees.
When I say there is no White Linen night, what I mean is: you don't have to wear white linen. Don't get me wrong, lots of people will be dressed in the fabric deemed fundamental to a sartorial summer in New Orleans, and you should get a linen outfit, because linen outfits, done right, look amazing, but it's not like anyone is checking tickets or anything like that.
Indeed, White Linen Night is free, which is good, because, well, free, but a drawback in the sense that the Warehouse District gets packed like a can of sardines, and the only thing worse than a can of sardines is a can of sardines in August in New Orleans.
Some seriously sexy linen ensembles will inevitably be present, and it's always a fun game trying to figure out who cares about local art and who is using the night as a linen fashion show; the ratio is muddied by the fact that many use the evening to indulge both perspectives.
Whichever way you approach White Linen Night, we highly recommend heading to the Contemporary Arts Center. The CAC forms the geographic and spiritual lynchpin the event revolves around, and for the first time ever, they are offering up a Cool Down Lounge. Located at 743 Camp St (a block north/down of the main CAC campus), for $40 you get entry to the lounge and air conditioning, two complimentary drinks and private restrooms – three things that are crucial to enjoying a good White Linen Night.
In addition, the CAC will host an opening reception curated to explore the connection between local artists and the region. Also on hand will be the folks from The Stacks a currently mobile bookstore that is setting up permanent shop in the CAC in October.
Some 25 New Orleans restaurants will have cash booths set up within the bubble of White Linen Night, and being in the Warehouse District, you'll be adjacent to some excellent restaurants. If you're flying solo or in a couple, it's surprisingly easy to nab a seat or a bar stool at restaurants like Herbsaint, which usually require reservations. I recommend catching a drink at the CellarDoor, a Lafayette St bar that lays just on the edge of the White Linen Night madness and displays its own gallery of curated contemporary art; a cocktail or meal (or both) at Compere Lapin isn't a bad idea either.
A final word of warning: if you're driving, try not to park in the Warehouse District, unless you really enjoy frustration, waiting around and driving in circles. Instead, aim for a spot in the Lower Garden District, grab a go-drink and stroll on over.
Image courtesy of Wiki Commons.