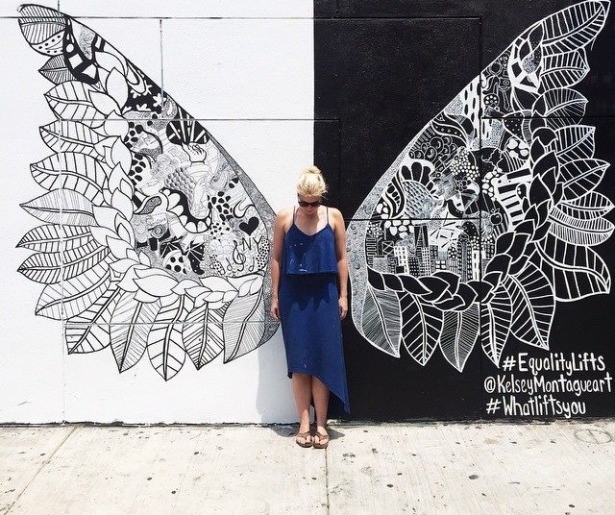 SHARE
Art lovers can literally spread their wings at this year's Whitney White Linen Night. Street artist Kelsey Montague is creating an interactive mural that invites passersbys to tell the world "What Lifts You" by posing in front of a huge pair of lovely, lacy wings and posting their photos on Instagram.
"Creating wings for New Orleans is a dream comes true," says the Denver-based artist, who inked her first #whatliftsyou mural in New York in 2014 and has since winged around the globe to cities as far away as New Zealand.
"I fell in love with the city the first time I came, while I was in college, when I was only there for a couple hours," she said. "Then I came back three years ago, and fell in love all over again. New Orleans feels deeply creative and has its own pulse, which I hope to capture in my mural."
Her latest incarnation of "What Lifts You," sponsored by local arts collective Pelican Bomb, will be unveiled at 750 Carondolet St. during the annual Whitney White Linen Night.
Viewed from a distance, Montague's looming white wings are striking, forming a aerodynamic frame for the person who stands before them. Look closely at the wings' delicate filigree patterns, which she designs to reflect the city where she creates them, and familiar images begin to emerge.
Some of the references are personal. "I had my first brandy milk punch in a little bar in the French Quarter," recalls Montague, who was feeling a trifle nervous while waiting to meet her sister until a "lovely waiter" cured her jitters with the drink. Other images are more iconic, like the Mardi Gras masks, beads and beignets she plans to incorporate into the wings' gossamer latticework.
To spark inspiration, Montague researched the city's history and surrounded herself with images of New Orleans in her Colorado studio. But her creativity won't really take flight until participants become part of her mural, and allow the wings to lift their own imaginations.
"It's fun to watch people step into the work" says Montague, who provoked an Insta-tsunami when Taylor Swift posed in front of pair of #whatliftsyou wings. "I'm always shocked by how much people make the murals their own, and share them online. They really take the image and run with it."
Coming so close to the 10th anniversary of Katrina, and the federal floods unleashed by the storm, "What Lifts You" holds special meaning for the city in August 2015.
"After Katrina, the world saw how strong the city was," says Montague. "I wasn't there before, so I only came to know the essence of the city post-Katrina. It's an amazing place, with so many talented people."
What message does "What Lifts You" send to the people of New Orleans?
"You're all warriors," says Montague. "The wings give the city a way to highlight its creative spirit."
"What Lifts You" will be unveiled at 750 Carondolet St. during the annual Whitney White Linen Night (Saturday, August 1, 6-9pm, in and around the Julia St. arts district). It will remain on view for another three months. For more information about the project, visit the event page on Facebook.
Image courtesy of Kelsey Montague Art.