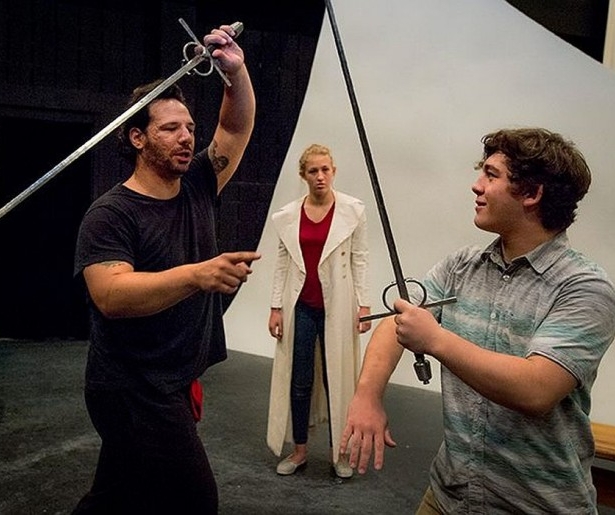 This week, students from across the Greater New Orleans Area will show off their acting skills as part of the Gavin Mahlie All Things Shakespeare Program at Tulane University.
The program, which began in 1993 along with the New Orleans Shakespeare Festival, gives local high school students the opportunity to study Shakespeare and stage acting with theatre professionals and educators.
In years past, the program typically consisted of four weeks of training and rehearsals, and culminated with the staging of a full Shakespeare play for an audience. But 2015 All Things Shakespeare director Silas Cooper wanted to change that approach for this year.
He explained how in the past, when a play was staged, two students would be leads, two or three would receive strong supporting roles, and the rest would be left with bit parts. This year, each student will perform one monologue and participate in one two-person scene for a paying audience.
"Everything's distributed absolutely equally," Cooper said. "They get the same amount of performance time."
Cooper said the final performance isn't meant to be a flawless reproduction of Shakespeare's work, but a progress report indicating how far the young actors have come during the program.
Many students are initially intimidated by Shakespeare, as the period language is so different from 21st century English. They also often feel like they won't be able to relate to the concerns of characters from 16th and 17th century Europe.
To put students at ease, the program starts with ice-breaker games and improvisational work laced with language from the plays like "thee," "doth," and "thou." Because Shakespeare's plays involved heightened emotions, another game involves dying in the most dramatic way possible, all in the interest of keeping things fun and easygoing.
"At the end of the week, we have a much looser, freer ensemble," Cooper said.
Keeping things light at the beginning of the program prepares the young actors for the second week, where they're assigned a monologue. At that stage, students learn about scansion (determining the rhythm of a line of verse) and identifying the operative word in a measure of speech.
Cooper feels learning these fundamentals is vital before tackling Shakespeare. He said all too often, actors jump in without understanding these concepts, and the result is similar to a novice musician trying to play Beethoven with little to no practice.
"You can see and hear the difference in the work when the performers have learned the fundamentals," Cooper said.
The workshops have done more than help the participants conquer their apprehensions and improve their acting. They've allowed the students to see both the modern relevance and inherent fun of Shakespeare's work.
"The coolest thing (about the program) for me would be translating the text into my own words because you can relate to it a lot more than you thought," said Kylie Ritter, a 17-year-old student of Northshore High School and NOCCA.
The fact that there aren't tests or essays has also made Shakespeare seem less daunting.
"I have enjoyed being able to look at Shakespeare from an actor's perspective, as opposed to the scholarly perspective," said Ellanor Patton, a 16-year-old student at Isidore Newman School. "It is exciting to be introduced to many different works, rather than just the few I read in school."
Even the students who already liked Shakespeare have taken something positive from the experience.
"I've learned to appreciate it more," said Pearlie Leaf, a 16-year-old student at Lusher Charter School. "It's just really great to be able to focus so much on learning, decoding, and acting Shakespeare. I hadn't had that much classical experience before, but now, I really feel like I can do it."
The students' joy has enhanced the teachers' experience, too. "The most exciting thing is watching the kids get excited about Shakespeare," said Mary Frances Candies, assistant director for All Things Shakespeare. "They all come in excited and ready to work on their pieces and ready to start the day."
Cooper hopes this excitement lasts a lifetime, that young people will view Shakespeare's work as living art and not museum pieces. The goal is to have the students continue to perform the bard's plays and convince their friends that seeing Shakespeare onstage is a fun, worthwhile experience "not just for this show, but for years to come."
Locals can enjoy the students' scenes and soliloquies at performances from August 6th through August 9th. The Thursday, Friday, and Saturday shows are at 7:30pm and the Sunday show is at 1:30pm. All performances are at Tulane's Lupin Theatre. Tickets are $15 for adults and $12 for seniors and children/students. For more information, or to purchase tickets online, click here.
Above image: Burton Tedesco rehearses a scene with past All Things Shakespeare students Carli Kirtland and Joe Angelette. Photo by Paula Burch-Celentano.