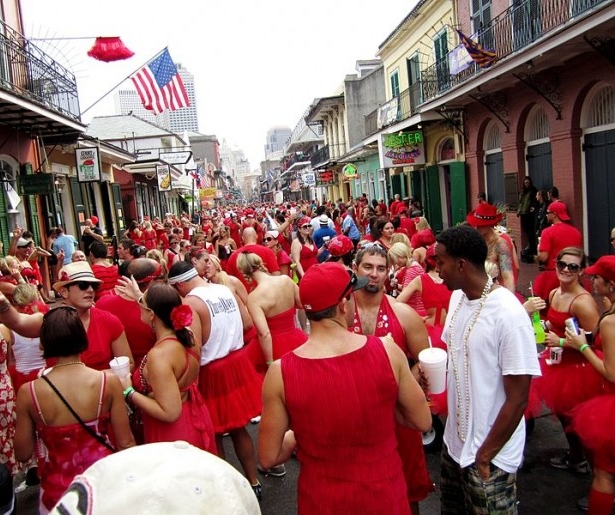 Twenty one is the magic number. This year, the New Orleans Hash House Harriers, also known as NOH3, host the 21st Red Dress Run in the Crescent City, officially unleashing thousands of bare-legged men and women in red dresses with varying amounts of body hair into the Quarter.
The all-day party kicks off at Armstrong Park on Saturday, August 8, 2015 at 9:30am, with late-registration starting at 9am.
Traditionally the second Saturday in August, this year's annual event marks an important milestone – twenty one – the legal drinking age currently enforced in the great US of A. Also important to note: participants in the Red Dress Run must be 21 years of age on or before the day of the race in order to join the fun.
Since Hash groups are "drinking clubs with a running problem," the age requirement is non-negotiable; it is too hard to monitor under-agers so take note that this is a 21+ affair. The organizers request that you kindly do not ask for an exception for your red dress-loving son, daughter, cousin, whomever, as this rule is steadfast.
Came Upon Me, nom de guerre of the Red Dress Run Grand Marshal, notes that there are about 1,000 participants above last year, so if you have not signed up and are interested, it is best to do so at the Expo taking place Thu-Fri, from 4-9pm at the Fairgrounds Race Course grandstand building. Your registration fee gets you a bib number as well as beer, barbeque, live music all day at Armstrong Park.
You also get to party for a great cause – New Orleans. Putting your wristband on in advance of arrival at Armstrong Park enables participants to avoid showing ID and a lot of the lines, hassle, and inherent confusion on race day.
"Our race," explains Came Upon Me, "is the most successful red dress run in the country because New Orleans has the right attitude and atmosphere for parties."
Red is all the rage. Dresses that fit men or women are selling fast as race day approaches, but QT Pie on Dauphine, Uptown Costume and Funky Monkey on Magazine or any Rainbow store are still contenders. Successful participants pillage thrift stores like Bridge House Thrift, Red, White and Blue or Bloomin' Deals for their bounty. For the men, it might be a good time to invest in a fanny pack if you have not done so already.
The route is kept a tight-lipped secret until day-of; however, it always careens around the Bourbon/Royal Street part of the Quarter and returns to Armstrong Park. There is not a specific start time, but expect the race to kick off between 11AM and noon with a handful of beer stops along the route.
The NOH3 are responsible drinkers (who also run) so plan to see extra security to keep the route as safe as possible for participants. The race "track" returns to Armstrong Park where the party rages on until 5pm.
Walk, jog, stumble but if you put on a Red Dress, remember, this is a charity event with a big chunk of the funds raised going to local organizations. After the Red Dress event the NOH3 open up online charity donation requests for three days and then review and vet the various queries. Grant announcements are made in September with (of course) a big party.
"A nice shindig," says Came Upon Me, "Where we invite representatives from the non-profits to celebrate with us."
If you are concerned about running the 2-3 mile secret course on a hot August day, you can still be a spectator. There are loads of bars lining the Bourbon/Royal area but here are a few to keep in mind:
Razzoo Bar & Patio, 511 Bourbon Street
Bacardi Hurricane is always 3 for 1. So, in honor of the color read, drink up.
Old Absinthe House, 240 Bourbon Street
They open at 9am so you can do absinthe cocktails early. Did someone say Green Fairy?
Chart Room, 300 Chartres Street
Cash-only dive bar opens at 11 AM to serve you tasty drinks for cheap.
A tipster leaked that if you are holed up at Lafitte's Blacksmith Shop Bar or the R Bar you will probably miss watching the actual race. These establishments have a history of housing hordes of partiers and are a great spot to meet up with friends. Not great if you are trying to catch the race action. Feel free to grab a go-cup and wander.
Image courtesy of Wikipedia.