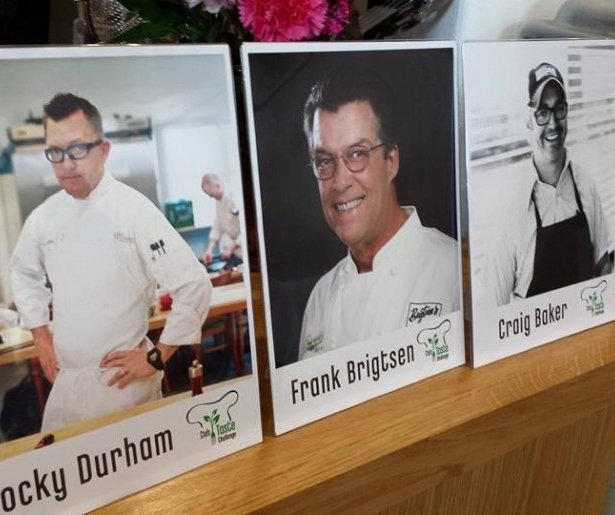 SHARE
We've collectively become more mindful of our eating – choosing healthier options, considering the food source and supporting more local operations such as independent farms. A fun, fresh take on a food competition that will heighten awareness of how important it is to use fresh, healthy, sustainable ingredients in meal preparation will take place on August 7 at the Ernest N. Morial Convention Center starting at 6:30pm, preceding the third annual Farm to Table International Conference (August 8-10).
The Chefs Taste Challenge is produced by the New Orleans Ernest N. Morial Convention Center, in conjunction with SoFAB, Centerplate, LSUAg and LDAF. Ten chefs from around the nation – who went through an application process and then were invited to attend based on winning popular votes on a Facebook competition held earlier this spring – will be present, showing their culinary skills in a friendly competition to determine which one can create the best dish, using donated ingredients from businesses on board with the farm-to-table cause.
They will all use items from across the country that are in season, as well as diverse menus meant to appeal to a wide range of palates. For example, the "NOLA" (New Old Latin Asian) will contain Hatch Green chile panna cotta, smoked redfish brandade, redfish ceviche and eggplant massaman.
"Chicken and Its Lunch" features cornmeal fried chicken ballottine, three corn infused porridge, summer squash chow chow and house hot sauce. The "Swamp and Turf" includes smoked pork and dirty rice boudin sausage, turtle and giblet gravy and ham hock red lentils.
"As people have become more interested in where their food comes from and how it is processed, our team thought that the Chefs Taste Challenge would be a great opportunity to f/urther broaden awareness of the farm-to-table movement and the importance of eating seasonal, locally sourced and sustainable ingredients," says Rosalie Mortillaro, Communications Manager for the Convention Center.
She says that the competition, which has been in the works for a year, will be held annually on the evening before the annual Farm to Table International Symposium. The symposium itself also features leading practitioners (including keynote speaker, author and activist Dr. Temple Grandin) in the burgeoning movement and explores cultivation, distribution and consumption of food and drink sourced locally to globally.
The conference, which is themed "A Feast For the Senses" will spotlight sensual aspects of food and drink at every stage of the agricultural-culinary cycle. Topics include farming and aquaculture, fisheries, sustainability, social and digital interactive media, food security and safety, food law and policy, food science and GMO, artisanal and slow food and drink, and fair trade.
At the kick-off dinner, "attendees can expect to taste exciting culinary creations from some of the nation's most innovative chefs," says Mortillaro.
Local news anchor and cooking enthusiast Mike Hoss will serve as emcee, and judges include prominent local chef Sue Zemanick (who won the prestigious James Beard award for Best Chef – South"); Chef Kevin Belton of the New Orleans School of Cooking; Gary Prell, vice president of Culinary Development, Centerplate; and Chef Izabela Wojicik of the James Beard Foundation. The two top dishes will be selected for Gold and Silver Chefs Taste Challenge awards, and dinner attendees will vote on a fan-favorite.
Participating chefs include:
Chef Craig Baker, Local Eatery & Pub, Indianapolis, Indiana
Chef Frank Brigtsen, Brigtsen's Restaurant, New Orleans, Louisiana
Chef Rocky Durham, Santa Fe Culinary Academy, Santa Fe, New Mexico
Chef Matthew Farmer, Apolline Restaurant, New Orleans, Louisiana
Chef Joshua Galliano, Companion Bakery, St. Louis, Missouri
Chef Richard Jones, Green Door Gourmet, Nashville, Tennessee
Chef Joel Navejas, The Farmhouse at Jessup Farm, Fort Collins, Colorado
Chef Hari Pulapaka, Cress Restaurant, DeLand, Florida
Chef Carmen Rodriguez, Lake Arrowhead Resort & Spa, Lake Arrowhead, California
Tickets can be purchased here.
.
Image courtesy of Chefs taste Challenge